Frequently Asked Questions
Planning a Thailand Plastic Surgery procedure? We want you to feel safe, happy, and fully informed about your decision. Before you jet off for a Bangkok Breast Augmentation, a Phuket Rhinoplasty, or any procedure in between, do your own research and ask as many questions as possible. To get you started, we've compiled a list of our most frequently asked questions. Scroll down to find the answers you need, then contact us to get your CosMediTour journey started.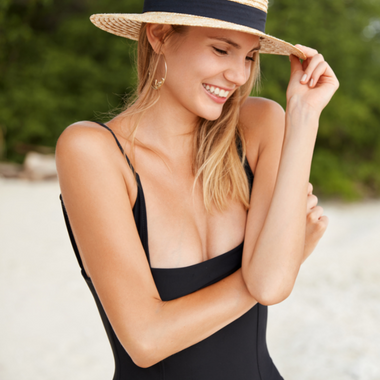 Do you have an assessment process?
Yes, the CosMediTour Process starts with a free online assessment. This is conducted so that we can provide you with a unique surgery recommendation. Our assessments are quick, easy, and obligation free—better yet, they can be done in the comfort of your own home. To start our process, you must complete an Assessment Form and provide 6 images as instructed. From there, you'll receive your free quote and surgical recommendation—it's that simple!
Is there an age limit on Plastic Surgery procedures?
Yes. You must be 18+ years old to be eligible for Plastic Surgery with us.
If you are under the age of 20, in Thailand you also require the consent of your parent or guardian. 
Do you have Before & After photos I can see?
Of course! We have a large collection of real Before & After images from our CosMediTour clients. You can find these in the Results Gallery on our website. We also frequently post new client images on our Facebook and Instagram pages.
Do you have a Cancellation/Refund Policy?
Yes. Click to view our Cancellation Policy and find out all you need to know about Deposits, Changes, Cancellations, Finance Applications, Refunds, and COVID-19. For more information, contact our Client Support team. 
I've never travelled overseas before; can you help me?
One of the main benefits of booking your Plastic Surgery procedure through CosMediTour is that you'll have access to your own dedicated Client Manager every step of the way. This friendly expert will answer all your questions and help you prepare for your travel to Thailand. Once you land, we have a local Client Support team on the ground in your destination. You can rest assured that there'll always be someone available to assist you with CosMediTour. For more information about travel to Thailand, click here, or scroll down to the Travel/Accommodation FAQs on this page.
Can I bring someone with me for my procedure?
Yes. You will be required to have a companion who is not having surgery to discharge you from the hospital and spend the night with you post-surgery. Our Thailand Plastic Surgery packages outline the inclusions for companions. NOTE: if you plan on travelling alone, please contact your Client Manager.
Do I need to pay a deposit?
To secure your Surgical Recommendation and surgery date, a deposit is required. This amount is non-refundable but will be deducted from the final procedure invoice. Please review our Cancellation Policy for more information.
Are there ways to fund my procedure?
If you haven't saved the upfront cost of your plastic surgery procedure, there are other ways to fund it. Interest-free layby is a great way to pay for your package ahead of time, or you may prefer one of these. 
Is my procedure covered by a warranty/can I get a refund?
Can I do my own research after receiving my Surgical Recommendation?
Yes, please do! We encourage all clients to do their own research and gather information from a range of credible sources. This will ensure that you're fully informed about all aspects of your procedure and the potential risks and complications involved. To get your started, we have a range of information on our educational blog. We also recommend that you seek out the advice of your General Practitioner.
I am pregnant—can I still get a Free CosMediTour assessment?
No. If you are currently pregnant, we cannot provide you with a quote or surgical recommendation. Additionally, to have any surgery under general anaesthetic, you must be at least 6-months post breastfeeding. Please only proceed with your online assessment once you have ceased breastfeeding, or 6 months after you give birth (if you choose not to breastfeed).
When will I meet my Thailand Client Liaison?
Soon after your arrival in Thailand, a member from our local CosMediTour Client Liaison team will connect with you to introduce themselves. Your Client Liaison will be friendly, knowledgeable and your number one point of contact in Thailand. They will join you at the hospital to help you with your pre and post-surgery consultations. They will also be available throughout your stay to help you if you need assistance. 
Should I know anything about Thailand before I depart?
Thailand is warm and welcoming, but it's important to be familiar with the country's culture and customs before you arrive. Understanding cultural etiquette and laws will pave the way for a smooth visit and enrich your experience in this beautiful country. To find out what you need to know, use our Thailand Destination Guide.
IMPORTANT The information on this website is intended to provide a general guide only. It isn't intended to be, nor should it be relied on, as a substitute for legal or other professional advice. Clients need to take responsibility for their overseas travel decisions and should obtain any appropriate professional advice relevant to their particular circumstances. Whilst care has been taken in the preparation of this content, CosMediTour does not guarantee the accuracy, reliability, currency or completeness of any material on this or any linked site. CosMediTour accepts no legal liability arising from or connected to any material on this website or on any linked site.