Thailand Plastic Surgery Tourism
Frequently Asked Questions - Travel
Getting ready to jet off to Thailand for your CosMediTour Plastic Surgery procedure? Overseas travel has changed in recent years. We want you to feel confident that you have the most up to date information as possible so, on this page, you'll find all our most frequently asked questions. From visas to vaccinations; COVID-19, to Bangkok and Phuket specific tips—use this as a base for your research and contact us if you have anything else to ask.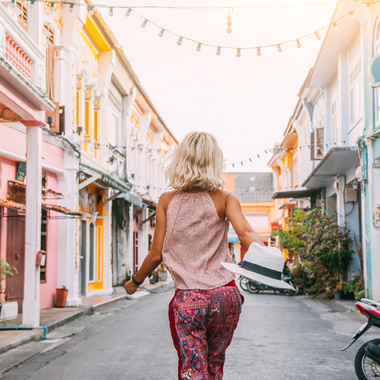 Can I travel alone?
Yes, you can travel alone to Thailand for your surgery. CosMediTour clients enjoy the services of a dedicated in-destination support team, who w join you at the hospital to help you with your pre and post-surgery consultations. They will also be available right throughout your stay to help you if you need assistance.
If you do decide to take someone with you to Thailand, CosMediTour offers a low-cost companion free option that enables your travel companion to get everything that's included in your package, aside from the surgery.
What documents do I need to enter Thailand?
Passport
You require a passport with at least 6 months validity at the time of your travel.
COVID-19 Documentation
There are a number of mandatory COVID-19 travel and testing requirements that you must undergo to enter Thailand. These requirements are constantly changing – for the latest advice, visit our page on Thailand Travel.
Do I need to be vaccinated?
While there are a range of vaccinations that are recommended for travellers to Thailand, both vaccinated and unvaccinated travellers can enter the country. To find out which vaccinations are recommended, talk to your General Practitioner and our Client Support Team when you book in your procedure. 
In the case of COVID-19, both vaccinated and unvaccinated travellers can enter Thailand, however, there are a number of mandatory COVID-19 travel and testing requirements. These requirements are constantly changing, so to understand the latest advice, visit our page on Thailand Travel.
Do I need a visa to enter Thailand?
No – Australian passport holders are not required to obtain a visa when entering Thailand for tourism purposes and will be permitted to stay in Thailand for up to 30 days. If you hold a passport from another country (not Australia), click here to see if you're required to have a visa upon entry. 
Is Travel Insurance mandatory?
While travel insurance isn't mandatory, it is strongly recommended that you do take out a policy.
Do your own research on insurance providers and carefully read the Product Disclosure Statement to ensure that it meets your criteria. Be sure to look at the COVID-19 inclusions in each policy and, if you need assistance, seek out an accredited travel agent, or contact us so that we can put you in touch with one: 1300 000 633.
What happens if I test positive to COVID-19 while in Thailand?
COVID-19 surgery clearance and isolation requirements are constantly changing. For the latest advice, please vist our page on Thailand Travel 
Where can I find up to date information on travel restrictions?
Countries around the world change their rules around travel constantly. To ensure that you're up to date with the latest advice, visit your relevant country travel advice platform. We have included some below. If your country isn't listed and you need assistance locating the platform, contact us. 
Australia | New Zealand | Singapore |UK | UAE | USA | Canada
Should I book my flights through a Travel Agent?
We recommend booking your flights through an approved Travel Agent. With a wealth of experience, a Travel Agent will get you where you want to go and will be there to provide timely and professional guidance along the way. CosMediTour has a preferred travel partner with significant experience in Medical Tourism travel. It is important to not book flights before your client manager has confirmed you can. For details, simply ask our Client Support team: 1300 000 633.
What's the best way to travel within Thailand?
There are a range of ways to travel once you land in Thailand. Tuk Tuks (iconic three-wheeled vehicles) are a fun way to get around, but be mindful to negotiate the price before you get in. Other options include the Bangkok Skytrain, Grab (Asia's ride-sharing app), and air-conditioned taxis. 
If you choose to travel by taxi, always ask the driver to use the meter, and be wary of those offering to take you to 'good' places. For more tips on how to stay safe when travelling in Thailand, click here.
Is there anything I should know about flying home?
If your recovery is progressing well, your Surgeon will declare you 'fit to fly' home during your post-surgery consultation. Be sure to take extra care during your return flight—have your pain relief medication handy in your carry-on luggage, keep well hydrated, and ask for assistance when using the overhead lockers.
IMPORTANT The information on this website is intended to provide a general guide only. It isn't intended to be, nor should it be relied on, as a substitute for legal or other professional advice. Clients need to take responsibility for their overseas travel decisions and should obtain any appropriate professional advice relevant to their particular circumstances. Whilst care has been taken in the preparation of this content, CosMediTour does not guarantee the accuracy, reliability, currency or completeness of any material on this or any linked site. CosMediTour accepts no legal liability arising from or connected to any material on this website or on any linked site.