Tummy Tuck Frequently Asked Questions
No one is immune to the pressures of age, weight, and occasional ill health. While some clients deal with these pressures mentally, others experience physical effects. Following pregnancies, extreme weight gain or loss, illnesses, and surgeries to remove hernias or tumours, clients can find themselves, quite literally, overstretched. A Tummy Tuck, or Abdominoplasty, is a procedure that revitalises the midsection of the body by tightening and smoothing abdominal contour. If you're planning a Tummy Tuck, read our FAQs to ensure you're fully informed about the procedure.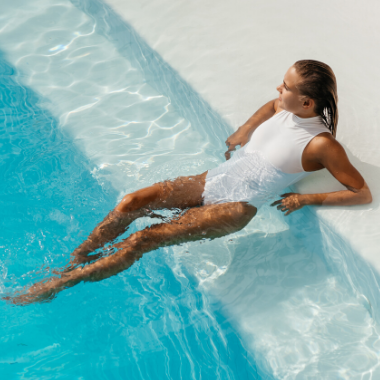 Are Tummy Tuck results permanent?
The results of a Tummy Tuck are generally permanent, as long as clients don't experience changes to their body following surgery (e.g. extreme weight gain or pregnancy). To ensure long-lasting results, our Plastic Surgeons ask clients to be physically healthy, not planning a pregnancy in the future, and able to maintain a stable weight.
How long will I have to take off work for a Tummy Tuck?
Most clients require at least 4 weeks to recover, however each procedure is unique, and clients heal at different rates. In most cases, clients can return to work after 4 weeks and resume driving. Strenuous exercise and activities that place strain on the abdominal area (e.g. sit-ups and sexual intercourse) must be avoided for at least 6 weeks. Your Plastic Surgeon will provide you with personalised advice about your recovery timeline.
Will I need bed rest after a Tummy Tuck?
Yes—your Surgeon will recommend completing around 3 days of bed rest following your procedure. Clients must lie with their upper body raised and knees angled to reduce abdominal strain. During this time, you can practice transferring in and out of bed, and complete short walks around the bed or hospital room to promote circulation. These must be done in a hunched position. A catheter may be placed to assist you initially as rushing to the toilet must be avoided. Gentle walking and assisted stair climbs (one step at a time, no more than twice a day) can be reintroduced after 5 to 10 days.
Can I shower after Tummy Tuck surgery?
Not initially. To promote healing, wounds must be kept dry. Clients must stick to sponge baths only in the first few days of recovery. Your Surgeon will advise when it is safe for you to resume showering and bathing again.
How painful is a Tummy Tuck?
Most clients experience mild to moderate tightness and soreness for approximately 2 weeks post-surgery. It is important to note that everyone's pain threshold is different, and not all Tummy Tuck procedures involve the same techniques. Your Surgeon will discuss the complexity of your unique procedure with you ahead of time and provide personal advice on how best to manage your post-operative discomfort. Pain relief medication can be prescribed as required.
Does a Tummy Tuck remove fat?
Tummy Tuck surgery removes excess skin and fat from the midsection of the body. To ensure that the maximum amount of excess skin is available for removal, it is crucial that you're at your goal weight before surgery. This will also help your Plastic Surgeon achieve optimal, long-lasting results. If required, your Tummy Tuck procedure can include standard frontal Liposuction to assist in the removal of stubborn fat and enhance the overall result of your waistline contour transformation.
How long does Tummy Tuck surgery take?
A standard Tummy Tuck procedure takes between 2 to 3 hours. This time can vary depending on the complexity of the procedure (i.e. whether a Mini, Full, or Liposuction Tummy Tuck is being performed). As with all aspects of your journey, your Plastic Surgeon will provide you with personalised advice on the timing of your procedure.
Do I need to wear a support garment after Tummy Tuck surgery?
Yes, you do. Post-operative support garments are critical to your recovery. They aid in the management of swelling, healing of your incisions, and contribute to your overall Tummy Tuck results. Your Plastic Surgeon will advise how long you should wear your garment for.
How soon can I exercise after a Tummy Tuck?
In most cases, exercise can be reintroduced 8 to 12 weeks after surgery. This is, of course, provided you have healed enough for the style and types of exercise to be safe. As with all aspects of your recovery, your Surgeon will provide tailored advice on the timings that are right for you.
What are the types of Tummy Tuck?
There are 3 main types of Tummy Tuck procedure—Mini Tummy Tuck (Partial Abdominoplasty), Full Tummy Tuck (Abdominoplasty), Extended Tummy Tuck and Circumferential Tummy Tuck (Belt Lipectomy). Plastic Surgeons select the type of procedure for each client based on the amount of excess skin and fat present, where it is located most, and whether or not the abdominal wall muscles need to be repaired.
Will a Tummy Tuck leave a scar?
Scarring is a normal part of all surgical procedures. Tummy Tuck scars vary depending on the type of procedure performed (Partial Abdominoplasty, Full Abdominoplasty or Liposuction-Assisted Abdominoplasty), the amount of excess skin and fat needing to be removed, and how well the client follows their Surgeon's post-surgery advice.

The incisions most used for Tummy Tuck procedures range from 1 small incision near the naval (belly button), to 2 larger incisions (1 horizontally from hip to hip just above the pubic region and 1 around the navel). In cases of extreme excess tissue, a Circumferential Abdominoplasty (Belt Lipectomy) may be performed. This involves a long incision that extends across the abdomen and around to the back, like a belt. Surgeons will make every effort to place this incision below the underwear line so that the scar can be concealed.

When cared for properly, Tummy Tuck scars will begin to fade over the first 6 to 12 months post-surgery. While they may not completely go away, in most cases, they will be able to be hidden under most clothing and swimwear styles.
IMPORTANT The information on this website is intended to provide a general guide only. It isn't intended to be, nor should it be relied on, as a substitute for legal or other professional advice. Clients need to take responsibility for their overseas travel decisions and should obtain any appropriate professional advice relevant to their particular circumstances. Whilst care has been taken in the preparation of this content, CosMediTour does not guarantee the accuracy, reliability, currency or completeness of any material on this or any linked site. CosMediTour accepts no legal liability arising from or connected to any material on this website or on any linked site.