Labiaplasty Frequently Asked Questions
The female genitals are unique to each client. While a degree of variation should be expected, a range of physical and emotional issues can arise when it comes to the shape, size, and appearance of the Labia. A Labiaplasty, or Labia Reduction, modifies the folds of skin ('lips') at the entrance to the vagina. Surgeons can alter the Labia Minora, the Labia Majora, or both, to improve comfort, decrease pain, and address issues of asymmetry in the genital area. Considering Labiaplasty? Start your research with our FAQs.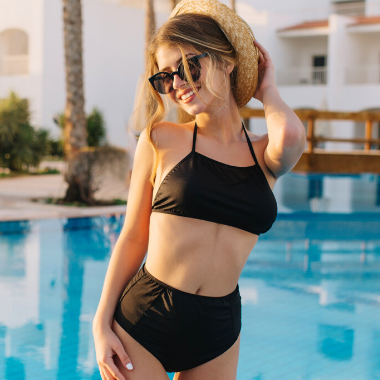 What is Labiaplasty?
Labiaplasty is a procedure designed to reshape and resize your labia by removing excess sagging skin and tissue. Reducing the size of your Labia can resolve pain or discomfort experienced whilst exercising or wearing tight clothing. At the same time, the surgery can also enhance the appearance of the entrance to your vagina.

Plastic Surgeons can modify the Labia Minora, the Labia Majora, or both. The techniques they may employ include External Trimming, the Wedge Technique, Liposuction, and Fat Transfer. Your Plastic Surgeon will discuss all these options with you during your consultations.
Will I experience pain with Labiaplasty?
Like any surgery, you will have some level of discomfort after the procedure. For most clients, the discomfort will subside within a few days. Everyone's journey is different, so your Surgeon will offer you advice on how to best manage pain and prescribe medication if required.
How long after Labiaplasty can I have sex?
Generally, you'll need to refrain from any sexual activity (Vaginal Penetration) for approximately 4 to 6 weeks after your Labiaplasty procedure. Increased blood flow in the genital area (encouraged bt sexual intercourse and vigorous exercise) can induce complications and impact your results. As with all aspects of your recovery, your surgeon will provide you with tailored advice on your healing time frame.
Will I get scars from Labiaplasty?
Yes, you will get some scarring with Labiaplasty, however, these are generally not noticeable and will fade over time. Your Plastic Surgeon will make every effort to keep incisions as small as possible and try to hide them in the natural lines and creases of your skin. 
How long after Labiaplasty until I can exercise?
All clients heal at different rates, so recovery timings can differ. Generally, though, exercise can be reintroduced after 6 weeks. Your surgeon will provide personal advice about when the time is right for you, and this must be followed to ensure optimal results—increased blood flow to the genital area (induced by vigorous activity) can cause complications.
Can I use tampons after a Labiaplasty?
The use of tampons should be avoided for 6 to 8 weeks. To promote healing, clients must wear loose underwear and clothing during this time.
When can I shower and use the toilet again?
It is important to keep the site moist, but not wet, after a Labiaplasty. Clients can resume showering and using the toilet the first day after surgery. It's important to dab the area dry, rather than rubbing, and swimming and bathing must be avoided until your Surgeon advises.
What can I do to promote healing after Labiaplasty?
Cold packs and prescribed pain relief medication can be used to reduce swelling and initial discomfort. To aid healing, a barrier ointment must be applied (typically twice a day). As with all aspects of your procedure, your Plastic Surgeon will provide personalised advice for your recovery.
IMPORTANT The information on this website is intended to provide a general guide only. It isn't intended to be, nor should it be relied on, as a substitute for legal or other professional advice. Clients need to take responsibility for their overseas travel decisions and should obtain any appropriate professional advice relevant to their particular circumstances. Whilst care has been taken in the preparation of this content, CosMediTour does not guarantee the accuracy, reliability, currency or completeness of any material on this or any linked site. CosMediTour accepts no legal liability arising from or connected to any material on this website or on any linked site.