What To Expect On Your Thailand Plastic Surgery Journey
It's finally time for your long-awaited surgery. We're sure that you're feeling excited and naturally, a little nervous. To help calm your nerves as your surgery date draws closer, it may help to know what you can expect throughout your journey in Thailand. As always, our Client Support team is here to help on 1300 000 633. In the meantime, read on to learn about how your journey will unfold.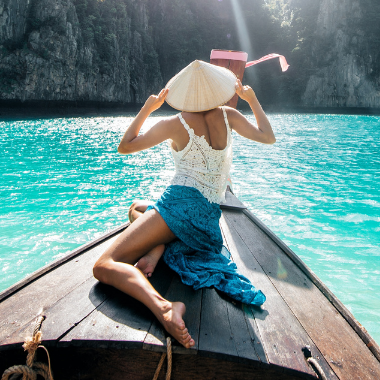 Learn About The Locals
Thailand is warm and welcoming, but it's important to be familiar with the country's culture and customs before you arrive. Understanding cultural etiquette and laws will pave the way for a smooth visit and enrich your experience in this beautiful country.
Find out what you need to know in our Thailand Destination Guide.
Transfers
Once you've gone through customs and collected your luggage, your transfers will be waiting for you at the airport pick up point. Simply keep a lookout for a driver holding a sign with your name on it. If your driver has not arrived, it's likely because traffic in Thailand is chaotic, so please be patient. If your wait time is too long, then please call your driver.
Transfer Travel Times
From Phuket Airport
Angsana Laguna Resort | 30 minutes

Homm The Bliss Southbeach | 55 minutes 
From Bangkok Airport: 
The Montien Hotel | 40 minutes drive
As a reminder, specific details of your transfers are contained in your Final Hospital Treatment Plan, sent to you by your Client Manager.
Health Testing On Arrival
For the latest information COVID-19 testing requirements, visit our Travel Information Page or call our Client Support Team on 1300 000 633.
Your Hotel
When checking into your hotel, you'll need to present your passport for identification. You'll also need to provide a credit card for expenses to be charged to (outside of your package inclusions). If you have any issues with your room, please connect with the hotel reception. 
You'll find your hotel contact details here.
Your Thailand Client Liaison
Soon after your arrival, a member of the local CosMediTour Client Liaison team will connect with you to introduce themselves. Friendly and knowledgeable, your Client Liaison will be your point of contact in Thailand. They will join you at the hospital to help you with your pre and post-surgery consultations. They will also be available right throughout your stay to help you if you need assistance. You'll find their
contact details here
.
The Day Before Your Surgery
Fasting
Be sure to check your Final Treatment Plan document for fasting details so you know what time to cease eating and drinking in preparation for your surgery. 
Pack for Hospital
When packing your hospital bag please be sure to pack your: 
Passport

Travel Insurance Policy

Credit Card or THB cash 

Post-Surgery Aids

Clothing

Toiletries

Devices & chargers
Transfers
Your hospital transfer will collect you from your hotel. Please wait in the lobby for their arrival. A reminder, specific details of your transfers are contained in your Final Hospital Treatment Plan.
Admission to Hospital
Upon arrival at the hospital, you will be directed to the Patient Admission desk to register and complete your admission paperwork. Your passport and travel insurance policy will be needed for this process.
Pre-Surgery Tests
After admission, you'll begin the process of surgery preparation which will include your mandatory pre-surgical tests – blood, heart, height, weight plus any others prescribed in your treatment plan. The friendly hospital team will guide you through this process.
Surgeon Consultation
At this time, you'll meet your Surgeon for your consultation. Your CosMeditour Client Liaison will be there to help guide you through this process. Your surgeon will ask you a broad range of questions about your medical history and expectations to determine the best procedure and technique for you. During your consultation: 
Feel free to ask as many questions as you like

Be clear with what you would like to achieve and your expectations

Be completely honest about your medical history and lifestyle 

Remember that every anatomy is different and your Surgeon will let you know what can be realistically achieved for your body type

If you're not clear on anything, ask for more detail

If you're not confident with the outcome of the discussion, don't proceed
More Paperwork
After your consultation, there will be some more paperwork to finalise, and any additional payments (only if required) will be made. At this time, your surgery time will be confirmed. 
Surgery
Every procedure differs, but here is an indicative guide on how your surgery will unfold: 
Before you go into the theatre, you'll change into a gown or surgical underwear and remove any jewellery, glasses, lenses etc. 

Your Nurse will check your vital signs and place a cannula placed in your arm so you can be given medicine and fluids to keep you hydrated

Your Surgeon will mark the places on your body where your procedure will take place

You'll be wheeled into the theatre on a stretcher and meet your full surgical team 

Your Anesthetist will put you to sleep, either with medicine in your cannula or through a breathing mask

Your surgical team will monitor your health right throughout your procedure 

You'll wake up in a recovery room where a nurse will check your vital signs and ask you clear your lungs by taking deep breaths 

It's normal to feel some discomfort and possibly nausea as you wake, so be sure to tell your nurse so that your medications can be adjusted to assist

You'll stay in the recovery room until you're fully awake and your vital signs are stable

You'll be wheeled to your hospital room to have something to eat and begin your recovery. If you have a companion, they will join you at this time. 
Discharge From Hospital
After your stay in the hospital, you'll be discharged to recuperate at your hotel. Upon discharge, you'll receive a list of post-surgery care instructions, along with pain relief medication. If you're unclear on anything, ask your Surgeon or hospital team. 
You'll find your hospital contact details here.
Upon discharge, your post-surgery consultation visit will also be booked. This visit will take place before you depart Thailand, enabling your surgeon to monitor your healing and remove any stitches if required.
Recuperation At Your Hotel
When you arrive back at your hotel, it's vital that you follow the post-surgery care instructions provided by your Surgeon and plenty of rest. 
You may also like to read our Post Surgery Recovery Tips
At any time, if have any questions, are experiencing excessive pain or have a concern, please contact the hospital immediately
Medical Clearance to Fly
Before you depart Thailand you will have had your post-surgery consultation with your Surgeon. If your recovery is progressing well, you'll be declared 'fit to fly' to return home.
Health Testing On Departure
For the latest information onCOVID-19 testing requirements to re-enter your home country, visit our Travel Information Page or call our Client Support Team on 1300 000 633.
Flights
Take extra care of yourself during your return flight. In your carry-on luggage have your pain relief medication handy and be sure to keep well hydrated at all times. 
Recuperating at Home
Once you're back at home, it's important to continue to follow your post-surgery care instructions to the letter. Be sure to not overdo it and get plenty of rest. If you have any questions or concerns, please call our Client Support Team on 1300 000 633.