Vaginoplasty
Vaginoplasty is a reconstructive surgical procedure designed to tighten the vagina muscles. After childbirth, many women may complain of vaginal laxity, resulting from stretching of tissues and separation of vaginal muscles, this lack of tone can contribute to sexual dysfunction, bladder incontinence, discomfort, urinary tract infections and frustration. Vaginoplasty is performed to repair of the vaginal canal walls and opening of the Vagina for enhancement of the bladder, comfort and sexual function. The concept may be referred to as "Aesthetic Vaginal Surgery", "Vaginoplasty", "Vaginal Tightening", or "Cosmetic Vaginal Surgery"
The amount of damage at the time of vaginal childbirth has also been shown to be strongly correlated with bladder issues and sexual function. Vaginoplasty is a surgical procedure performed to fix vaginal muscle relaxation. Women with vaginal muscle relaxation often complain they no longer feel the same amount of friction during sexual intercourse, decrease in ability to attain vaginal orgasms, discomfort when exercising or bladder incontinence.
Vaginoplasty Prolapse Correction – Anterior and Posterior Vaginal Repair
Anterior and Posterior Vaginal Repair are complex, reconstructive surgical procedures used to correct the loss of optimal structure of the Anterior and Posterior walls of the Vagina. The aim of this procedure is to correct the placement of the pelvic organs that have moved from their correct positions.
The pelvic organs include the Vagina, Uterus, Bladder, Bowel, Urinary Tract and Rectum. These organs are kept in place with the help of muscles, ligament sheets and fascia. Although, through the course of childbirth, ageing and Menopause can become damaged and drastically weakened. This weakening increasingly worsens over time and may cause the pelvic organs to shift from their correct positions.
When the tissues that support the pelvic organs become weak, stretched or damaged, they can move from their correct positions, dropping down and pressing against the walls of the Vagina causing many issues.
Anterior Vaginal Repair
A surgical procedure performed to assist in correcting the front (Anterior) wall of the Vagina when the bladder moves from its correct position. This condition is commonly known as an Anterior Wall Prolapse or Dropped Bladder and symptoms can include a vaginal bulge, pelvic pressure, urinary urgency, urinary incontinence, pain, discomfort, urinary tract infections, and bowel dysfunction, amongst other symptoms.
Successful Anterior Vaginal Repair surgery can repair the supporting tissue that holds the pelvic organs between the bladder and the vagina, commonly known as the 'Pelvic Floor' together, restoring their correct positioning and functionality.
Posterior Vaginal Repair
Is a surgical procedure performed to assist in correcting the back (Posterior) wall of the Vagina. Performed, when the Pelvic Floor muscles and ligaments that support the Rectum drop out of their correct position, causing ptosis to the back wall of the Vagina, which may result in Bowel dysfunction. This condition is known as Rectocele, Posterior Wall Prolapse or Fallen Rectum.
Symptoms may include a Vaginal bulge, Pelvic pain, Lower Back pain, pressure to the Bowel, poor Bowel emptying or chronic constipation. Successful Posterior Vaginal Repair surgery involves reconstructing the supporting tissues and muscles of the Posterior Vaginal wall, including the organs between the Rectum and the Vagina together, resulting in restoration of their correct positioning and functionality.
Perineoplasty
The perineum is the area of tissue between the vagina and the rectum and Perineoplasty surgery focuses on deformities, imperfections, damages, and defects to this area, which can be a result of childbirth and/or an episiotomy.
CosMediTour – Vaginoplasty
Prices:
See our Prices page for full price list
Surgeon:
Plastic & Reconstructive Surgeon
Consultation:
Free Surgeon Consultation
Surgery Time:
1 – 2 hours
Anaesthesia:
General Anesthesia or Local Anaesthesia (price varies depending)
Note: Twilight Sedation is not used. What is this?
Hospitalisation:
1 night
Time Away:
5 nights
Hospital Transfers:
All transfers included
Post-Operative Appointments:
Follow up 5 – 7 days
Recovery time:
Up to 6 months
Vaginoplasty
A vaginoplasty brings the separated muscles together, and the extra mucosa skin from the back side of the vagina is removed. The external skin can also be removed for a more aesthetic appearance. Once the amount of tightening to be done is determined, a pie-shape wedge is marked to delineate the extra skin to be removed from inside the vagina. Doctor will suture edges of the wound or two sides of the V- shape incision with slow absorbable suture beginning with the narrow cervical side. Beneath the skin, the tissues are tightened with strong sutures. Doctor will do the suturing and tightening along the entire length of the posterior vaginal wall. The suturing is done alternatively with 2 or 3 layers to avoid the post-operative bleeding. Once the vaginal canal has been tightened, the mucosal skin is sutured closed. If there is external skin that protrudes, this can be reduced as well for a more aesthetic result.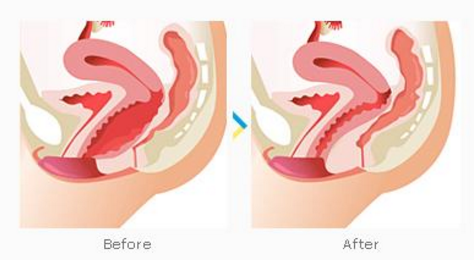 Vaginoplasty Price Includes:
Vaginoplasty Surgery
Surgery at one of Thailand's JCI Internationally Accredited Hospitals in Bangkok or Phuket
Operating Theatre, Anaesthesiologist and all associated surgery and Hospital charges
All drugs, routine and take home medications
Surgery by a renowned Plastic Surgeon, including pre and post-surgery consultations
Hospital transfers are only included for procedures over 90,000 THB
CosMediTour's Bangkok Medical and Aesthetic Clinic (in AETAS Bangkok Hotel complex) with support from Doctors and Registered Nurses (if required – Bangkok only)
CosMediTour Destination Client Relations Manager
Private 'Invitation Only' CosMediTour Surgery Forum to connect up with many other CosMediTour Clients and Patients staying in Thailand before you travel and during your stay
* Note: All procedures in Thailand, are based on standard, non-complicated procedure patients.
Risks – Vaginoplasty
Potential Surgery Risks and Complications vary from patient to patient depending on a range of factors and the extent of surgical work required. Regardless of how remote, the potential risks are listed below are possible. Your own research is essential especially if you are considering surgery. Following pre and post surgical care and instructions will also reduce your risks. See the following potential risks and complications include and not limited to:
Infection
Hematoma or abscess
Injury to an adjacent organ which could produce a "fistula" or excessive loss of blood which may lead to the necessity for other procedures to control bleeding and/or repair the injury.
Delayed or incomplete healing
Excessive or prolonged postoperative pain, or other rare events.
Have a question, or like to enquire about a procedure?