Labiaplasty
Labiaplasty – also known as Labia Reduction or Female Genital Reshaping, is a plastic surgery procedure that reshapes or changes the size of the labia minora (inner lips) and the labia majora (outer lips), the folds of skin surrounding the human vulva, to achieve an aesthetically more pleasing shape and appearance.
Labiaplasty has become a much more popular procedure, due to greater awareness that the surgery exists and is more acceptable to talk about preferences in the genital region. It is very important for all women to know that 'normal labia' come in all different shapes, sizes, colours, and textures.
Some women choose to have this surgery because they are unhappy with the look of their genitalia. They may prefer to have a neat, trim appearance or as it is sometimes called, 'designer vagina'. They may have discomfort during sexual intercourse, it may rub on their clothes, difficulty with hygiene, or have pain with activities such as bike riding. In some cases, these changes may occur over time or may be a result of childbirth and is normal to have changes in the area with puberty and pregnancy.
CosMediTour – Labiaplasty
Thailand
Surgeon:
Plastic & Reconstructive Surgeon
Consultation:
Free Surgeon Consultation
Surgery Time:
1 – 2 hours
Anaesthesia:
General Anesthesia or Local Anaesthesia (price varies depending)
Note: Twilight Sedation is not used. What is this?
Hospitalisation:
Outpatient
Time Away:
8 – 9 nights
Hospital Transfers:
Not included for outpatient procedures
Post-Operative Appointments:
Follow up 5 – 7 days
Recovery time:
Up to 6 months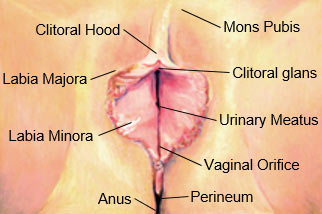 Labiaplasty Techniques
There are 2 main techniques to perform a Labiaplasty. The 1st is to trim the external excess labial skin (External Trimming Technique), and the 2nd is a 'Wedge' or 'V shaped' excision.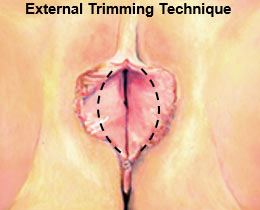 External Trimming Technique – is the most common technique. The labia minora is clamped, amputated, and the 2 sides are sewn up with a running 'baseball' type stitch. The advantage of this technique, is it is a straightforward procedure to perform by a skilled Plastic Surgeon. The potential disadvantages may be taking off too much of the labia (leaving very little or no labia), and having a straight line scar on the border.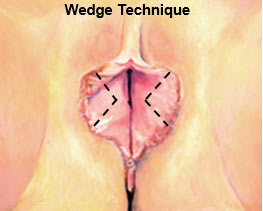 The Wedge Technique – involves simply taking a wedge, or 'V shaped' excision, from the centre of the excess labia. This is generally a better option than using the External Trimming Technique because it preserves the natural transition at the border of the labia. The disadvantage is the outer labia scar is a horizontal straight line going across the labia, and there is a risk of the border of the labia looking 'scalloped' if the scar tightens or there is not a lot of subcutaneous tissue.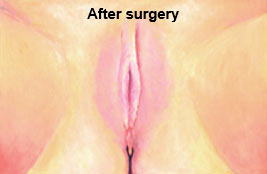 Potential Surgery Risks and Complications vary from patient to patient depending on a range of factors and the extent of surgical work required. Regardless of how remote, the potential risks are listed below are possible. Your own research is essential especially if you are considering surgery. Following pre and post surgical care and instructions will also reduce your risks. See the following potential risks and complications include and not limited to:
The most common risks are temporary pain, swelling, bruising, infection, bleeding, numbness, reaction to anaesthesia and other medications
Poor healing (generally from poor hygiene post procedure)
Labiaplasty Price Includes:
Labiaplasty Surgery
Surgery at one of Thailand's JCI Internationally Accredited Hospitals in Bangkok or Phuket
Operating Theatre, Anaesthesiologist and all associated surgery and Hospital charges
All drugs, routine and take home medications
Surgery by a renowned Plastic Surgeon, including pre and post-surgery consultations
Hospital transfers are only included for procedures over 90,000 THB
CosMediTour's Bangkok Medical and Aesthetic Clinic (in AETAS Bangkok Hotel complex) with support from Doctors and Registered Nurses (if required – Bangkok only)
CosMediTour Destination Client Relations Manager
Private 'Invitation Only' CosMediTour Surgery Forum to connect up with many other CosMediTour Clients and Patients staying in Thailand before you travel and during your stay
* Note: All procedures in Thailand, are based on standard, non-complicated procedure patients.
FAQ's – Labiaplasty
How long post surgery must I wait before I can have sex?
All surgical procedures have a time in which the body needs to heal. Your Plastic Surgeon will let you know your healing time frame, but generally you should refrain from any sexual activity (vaginal penetration) for a period of 4 – 6 weeks.
Will I be in much pain during and after surgery?
During the procedure, your Surgeon will ensure that you're comfortable and will feel no pain. If you have a low pain threshold you may decide that General Anaesthesia is more of a suitable option for you, but this option comes at a greater price. This will be discussed with you in detail during your Consultation. After surgery, any pain or discomfort you may experience will be controlled through pain medication and should subside within a matter of days.
Will there be scars?
Yes, but generally they will not be noticeable and will fade over time. Your Plastic Surgeon will make every effort to keep incisions as small as possible and try to hide them in the natural lines and creases of your skin.
Can I get this done at the same time as another procedure?
Yes, you can have this procedure in combination with another procedure while you are under General Anesthetic.
Have a question, or like to enquire about a procedure?