Our $5,000 CosMediTour Surgery Voucher Giveaway Winner shares her experience!

"CosMediTour are like fairy godmothers of surgical holidays!"
The winner of our $5,000 surgery Voucher Amy-Lee, recently returned from Bangkok after having a Breast Augmentation at the World Medical Centre. Amy-Lee shares her surgical experience with us and a few key reasons as to why she chose to enter CosMediTour's giveaway.
---
PRICE- "The price in Thailand will vary, but was approximately $5k, as opposed to Adelaide, where I'm from, which was $8-$12k. Brisbane and Sydney (which are also available with CosMediTour) were approximately $6-9k so Thailand it was!
THAILAND – Thailand has some of the highest accredited and experienced Surgeons in the world. It isn't known for its ladyboys for nothing! Their work is sound. I knew I was in good hands & I never ever doubted it. Why? Because I researched!! Plus, the private Facebook forum of around 5000 girls who have been there for surgery was extremely reassuring.
LOCATION- "The World Medical Centre is literally the most amazing place I've been in! The inside looks like a Men In Black facility. It's so futuristic, large, clean, and nothing like the hospitals back home!! And all I can say is, this place was amazing. My private room was the size of my house I swear, with an ensuite, kitchen, lounge, two TVs and a bed that I miss so much haha. So a huge thank you to CosMediTour for this amazing opportunity to literally fulfil my dreams of getting a Breast Augmentation. I can't even put into words how thankful I am!"
QUALITY – "I don't care what anyone says (because the people who talk shit almost certainly have not had surgery in Thailand) the extreme HIGH grade of cleanliness, care and quality that was at the World Medical Centre was nothing like I've ever seen. My private room had a kitchen, lounge, bed, two TVs and private bathroom. I was checked every 1-2 hours throughout my stay & the day after surgery I was seen again by my Surgeon.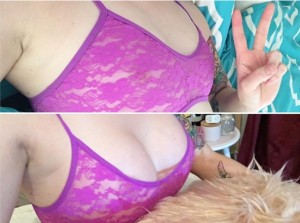 "Before and after.. Just wow. I can't thank CosMediTour enough for what they've done for me. I've wanted this done for as long as I can even remember and I can't believe it finally happened! 375CC, Round, Textured, Over the Muscle moderate profile plus with Dr Thiti at the World Medical Centre. 11 days PO."
RECOMMENDATIONS – "Before even arriving, I had several recommendations from Surgeons sent to me, regarding what they thought I should go ahead with. You can choose your Surgeon. When arriving in Bangkok, you're scheduled for a consultation to talk about sizes, risks, concerns, aftercare, and you can try on fake boobs too, to get a feel for the size and weight on your chest. You get your blood work done, X-rays and in my case, my consultation was the same day as surgery, so I just checked into my private room until it was time to go!
IMPLANT – "I went with Round implants because of my chest size, breast shape and the more fake look they offered (which I like). They were textured cohesive silicone gel, moderate plus profile, 375CC over muscle.
AFTERCARE/PAIN – "Waking up, the pain was about an 8/10. I was checked on every 1-2hrs & had more morphine overnight. Moving and standing was almost impossible by yourself! Luckily I had Brent, my partner to help me! The day after surgery, we went back to the hotel and I mostly slept as the pain in my back was pretty bad too. You get given a lot of advice and plenty of medications to take home to handle the pain so I wasn't too uncomfortable. Three or four days post-op, I was still quite sore, but not so sore we couldn't shop! Seven days post-op, I had my follow up appointment and my stitches removed.
WHY USE COSMEDITOUR? – "Because they will do it all for you! From organising your hotel, your hospital stay, all your airport and appointment transfers, all your numerous surgical recommendations from multiple Surgeons and finally booking it all in. It was reassuring to have them there for all your questions 24/7! Nothing is overlooked, you're kept in the loop and given all the info you need. I couldn't imagine having to do this without them. They're like fairy godmothers of surgical holidays – or just surgery itself!! I can't thank them enough for all they did for me. Words can't even describe how happy I am and how thankful.