I never looked back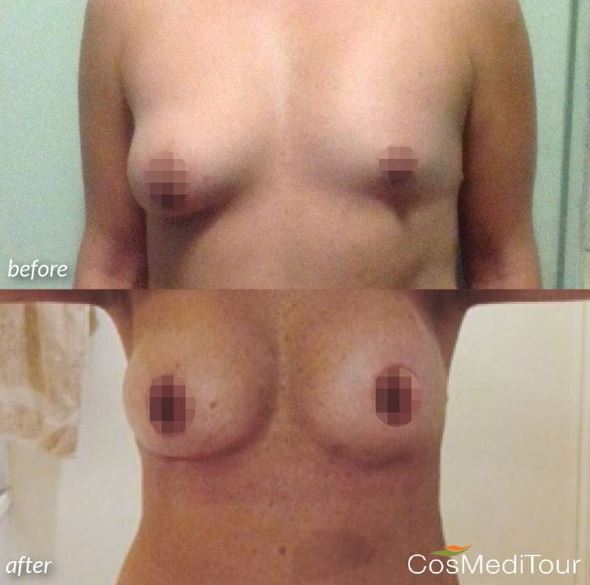 "I have been looking at getting a BA for a while now (about 2 years). And honestly had no idea where I was going to get it done. I came across CosMediTour on the internet and have never looked back. I'm over the moon with my results.
Right from the time we arrived, the service was amazing. From the little Thai man standing with my name on a board as we got off the plane! We arrived about 8pm and was taken straight to the residence room to get a good night sleep before it all kicks off the next day.
The pre op check ups were so thorough and I felt at ease with the lovely nurses. As you can see for the photos I had quiet a big difference in size of my breasts so the implants were both different but I am over the moon with my results. Dr Worapong is the Boob God!!!!!
I slept sitting up in my bed the first 2 nights and I think that really helped with the recovery. I felt no pain or tightness just a bit uncomfortable. I was at the chatuchak markets 3 days later shopping up a storm, lucky my mum was there to carry all my bags!!!
AETAS Bangkok have the best crispiest bacon at the breakfast buffet!!! Rooms are beautiful, so close to the BTS. Shame I couldn't swim in the lovely pool!
The hospital was clean and sterile, puts some Aussie hospitals to shame. Residence is great with a big tv! And my mum found the couch in the ward room was no problem to sleep on.
I would not hesitate to travel to Thailand again for any other surgery. The recovery was great reading my book round the pool but I always ate so much at breakfast cause it was sooooo good."
– Miss B Sunshine Coast
Procedure: Breast Augmentation
Hospital: Bangpakok9 International Hospital
Surgeon: Dr Worapong
Implants: 375cc left high profile, 275cc right moderate profile, Under breast incision
Have a question, or would you like to enquire about a procedure?