I honestly felt like a VIP the whole time!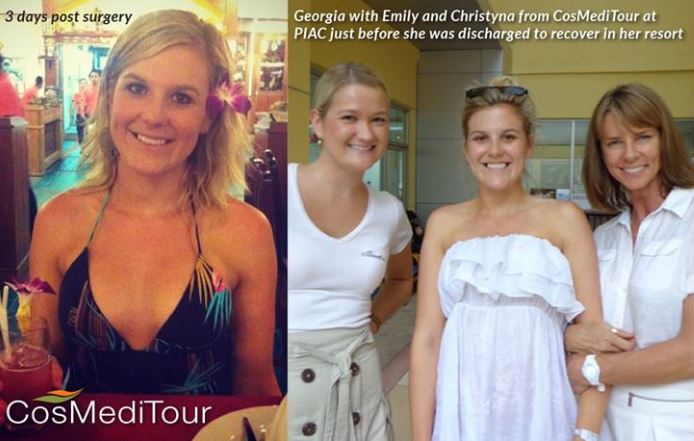 "It's already been over 3 weeks since my surgery! My surgery went so smoothly, as I had dual plane I still have quite a lot of muscle pain but that was to be expected. My incision is tiny and can already be barely noticed, I feel as though I'm getting better each day. The hospital was so clean and open and just felt a lot nicer than here, the nurses were extremely friendly, supportive and took seconds to come if you needed something. They also explained everything that was going to happen so I was never left waiting wondering what was going on. I had my surgery and was out of the hospital within 24hours and back at my hotel to rest.
My consultation with Dr Veerawat was amazing, he was so knowledgeable and provided me with advice which went perfectly with what I wanted to achieve. He was so easy to communicate with and broke everything down for me and told me the reasons for everything. He made me feel comfortable and confident to go along with the surgery. He checked on me and reassured me about everything. Even my boyfriend commented on how much more professional and prompt it was in Thailand. I honestly felt like a VIP the whole time. I already love my new boobs and they are still so new with so much more healing to go!
I am just so impressed with all of your help and guidance over the last few years that we have been discussing my surgery and I think that because CosMediTour is Australian it helps with easing your mind that if there happens to be a complication or you need to communicate its easy to talk to Australians. Arunwan was absolutely fantastic! She told us about great restaurants, things to do as well as helped us get settled into our room at the hospital, communicated between the nurses and i about any questions I had. She felt like a temporary mum and cared for me and went above and beyond for me.
I've had no complications or concerns since I've come home. It seems as though the surgery in Thailand is so much more advanced than Australia and I would highly recommend Phuket International Hospital and CosMediTour for surgery information, planning and the procedure for an easy, affordable, relaxing experience to anyone wanting surgery.
So far I have had no questions or any concerns with my progress, everything seems normal and I'm just trying to take it easy still as I've spent the money and gone through the process so Id hate to negatively impact it. I really am just so happy! The only downfall is not being able to do my weights and usual classes at the gym but its all worth it!"
– Georgia
Procedure: Breast Augmentation
Hospital: Phuket International Hospital
Surgeon: Dr Veerawat
Have a question, or would you like to enquire about a procedure?