Dr Veerawat's English was very good!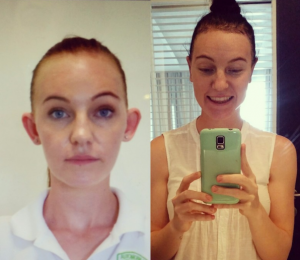 Breast Augmentation + Lift and"I travelled alone so going to Thailand was very daunting. When I arrived at Sea Sun Sand Resort and Spa, I had second thoughts about what I was getting myself into. I was put at ease when I arrived at PPSI Hospital and had my face-to-face consultation with Dr Veerawat. He has a quirky sense of humour and his English is very good. After the consult and being drawn all over, I was taken to my room and waited for surgery. The staff reassured me before being wheeled into theatre.
9 hours later, I woke up in recovery, very sore and hungry. I spent two nights in hospital before going back to my accommodation. I spent the first few days in bed as I was too sore to get up and move around, I was not ready to go shopping just yet.
5 days post-op I had a review with the on-duty surgeon. He reviewed my boobs and ears and said things were going well. Dressings were changed was given a folow-up appointment 10 days post-op.
1 week post-op was when I started to notice my new boobs take shape, I started to see cleavage and my ears looked amazing – I cried with happiness when I took the bandages off.
During the second week, I stopped taking my medication and was able to get up without much pain or discomfort and walk long distances. I had my second follow-up appointment and this is when my sutures were removed. The appointment took about 15 minutes and dressings were replaced. I was given one more appointment as a final review before flying home.
As my last week in Thailand was coming to an end, I booked a half day tour to sightsee. It was wonderful even though it rained for most of the day. I had my last appointment and Dr Veerawat was happy with the results after stating my case was very complicated."
–  Alyssa
Procedure: Ear Pinning and Breast Augmentation + Lift
Hospital: Phuket Plastic Surgery Institute
Surgeon: Dr. Veerawat