Dealing with CosMediTour was such an easy process!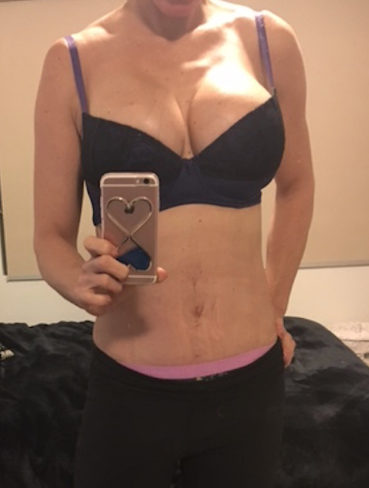 "I would like to thank CosMediTour and their staff for helping me to finally get the tummy tuck I had been considering for years! After 2 pregnancies with big babies, one natural and one caesarean, I was left with a considerable 'pouch', a pretty severe separated abdominal muscles with about a 3 finger gap, an an umbilical hernia. I am a very active person who trains hard and consistent, 6 days a week. Unfortunately no amount of training was able to give my abdomen back the look that I wanted.
I was quoted around $18,000 to get this fixed in Australia. Being a single mum, this for me was not manageable, so I started looking at going to Thailand. After browsing various websites, I came across CosMediTour and I'm so happy I did. From the moment of my first enquiry, they have been amazingly quick and came back with a quote within no time. At only a third of the cost here in Australia, going to Phuket for me was a no brainer.
I was a little nervous going there by myself, but dealing with CosMediTour was such an easy and straightforward process, that my hesitations were soon taken away. I felt peace of mind being able to communicate through an Australian based company, who did all the negotiating for me. It made the process a lot easier. I spent less then $600 on return flights, and around $6,000 for the entire procedure and after care. It was so worth it!
As soon as I arrived at the airport, there was a driver from CosMediTour right there to pick me up and drop me at my hotel. The next day I got picked up and dropped off at the hospital, where I was welcomed by Arunwan who works as a client liaison representative for CosMediTour. She was so lovely and reassuring, and she even went out of her way to find me an English magazine because I forgot to bring anything to read!
As soon as I spoke to the doctor, I felt reassured and knew I was in good hands. In terms of the hospital itself, it is immaculate, cleaner then any hospital I have stayed in in Australia! I had my own room, which was spacious and comfortable. I was very well looked after. The operation was not a straight forward one, it was somewhere in between a mini and a full tummy tuck. I didn't have a lot of fat, but loose skin, a hernia to be fixed, muscles to be attached back together, and I had a mesh inside from a previous hernia repair. Also I didn't have a lot of skin or fat which made it challenging to recreate a new belly button.
My surgeon, Dr. Veerawat (or Dr. V as the locals call him) worked around these challenges and was able to achieve a great result. The after care was fantastic too. The nurses were always there as soon as I called for one. I was given plenty of painkillers which made the pain manageable. The recovery has been relatively easy, I have been in some pain but it was nowhere near as bad as I expected. After 1 week, the doctor removed the stitches and did a general check up, and told me he was happy with everything. Close to 2 weeks after I was able to stand up straight!
I'm almost hitting the 4 week post op mark now. If I had known how easy the process was and how good the hospital was, I would have done this much earlier. I would not have had any second thoughts about the procedure. I hope my story will help other clients make the decision to do this for themselves.
Thank you Cosmeditour!"
Procedure: Tummy Tuck
Hospital: Phuket Plastic Surgery Institute
Surgeon: Dr. Veerawat