CosMediTour you have been amazing with your ongoing support and patience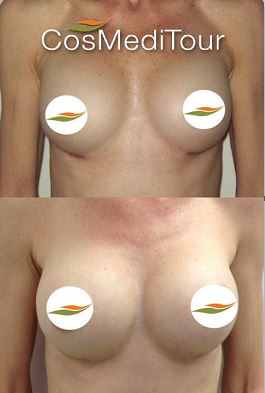 " I am sooo happy with my new girls! Dr Thiti was lovely and is a very happy man. He made me feel instantly at ease and very comfortable about my surgery. He makes me smile – not sure if it is because of his name or just because he is always smiling. Surgery went went very. First 24 hours was fine – slept almost the entire time. Next 24 hours not so good – but what I expected. Pain was severe and just felt very sick. No vomiting or reaction to medication – just overall body trying to deal with the surgery trauma.
By Monday I was absolutely ready to go! They took out the morphine drip first up that morning and the drains and I felt on top of the world. No pain, just awkward to move. Amazing how the body can adjust and heal within very short time frames. Dr Thiti wanted to discharge me but I wasn't due to check in to AETAS Bangkok until 11 the next day so I just hung around the hospital and drank lots of Starbucks lol! The ladies at the hospital are absolutely beautiful and I just want to take them all home with me. They are so attentive and eager to help you in any way they can.
The hotel is amazing, just as you described. The bed is absolutely gigantic and I actually think I got lost in it last night trying to get to the edge to go to the toilet! A family of 5 plus the dog and cat could easily fit in it and still not touch each other. I love it! Breakfast was an absolute visual sensation for the eyes. Ate myself stupid this morning at the buffet breakfast and am now waiting for the hotel shuttle to take me to the Skytrain. I am off to Platinum shopping today and can't wait!. Stitches come out tomorrow so might just spend the day recovering by the pool in my new swimmers reading some trashy gossip mag sipping cocktails – its a hard life over here lol!
So to some it all up so far, people are beautiful, hospital is 5 star, surgery all good, boobs look amazing, pain under total control (none at all) and apart from swelling – feel and look great! Hotel is something out of a hollywood movie set. I don't want to leave!!! Will keep you posted with my shopping specials.
Thanks again for everything, you have been amazing with your ongoing support and patience to see this trip finally come together. It is everything and more than I could have ever expected. Thank you and will let you know how my shopping adventure goes lol!
– Mum from Gold Coast
Procedure: Breast Augmentation
Hospital: Bangpakok9 International Hospital, Bangkok
Surgeon: Dr Thiti
Implants: 375cc, round, high profile
Accommodation: AETAS Bangkok
Have a question, or would you like to enquire about a procedure?