Operation Thailand our popular TV Series (in which CosMediTour is the exclusive surgery partner) will be re-running weekly starting Monday 21st at 10.30pm and again the following Tuesday at 1pm AEST on 9Life (Channel 94).
The 10-part TV series follows the emotional journeys of 30 Australians, as they travel to Thailand seeking cosmetic and dental procedures combined with a luxury holiday. Connect with young and young at heart patients through their emotional backstories in Australia. Then follow them through their experiences in Thailand, before joining with their family and friends for the ultimate reveal back home.
The show features some of our most popular Surgeons such as Dr. Pornthep, Dr. Montien, Dr Sanguan, Dr. Visnu, Dr Veerawat and many more!
Visit the 9NOW website for catch up Episodes which are added each week.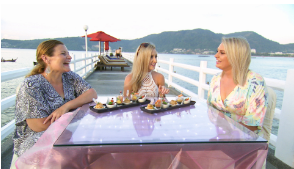 Recap Episode One: Recovered patient Chloe wants the boobs her cancer had kept her from having for four years, child support worker Kelly has her sights set on two major surgery procedures following major weight loss, and young wife Katie is up for a nose reduction and correction in the opening episode of Operation Thailand. Set against the tropical island backdrop of Phuket, with all three patients ensconced in the luxury of their waterfront Amari Phuket resort, things look straight forward for all three ladies…or do they?