Facelift
A Facelift can mask and lessen the signs of ageing, removing lines, creases and sagging skin by surgically tightening the skin for a brighter more youthful appearance.
The face is divided into 3 parts for 3 different lifts. There is a Forehead/Brow Lift, sometimes referred to as an 'Upper Facelift'. Then there is a 'Mid/Lower Lift' and 'Neck Lift'. A 'Full Facelift' includes Upper, Mid and Lower Facelifts, plus the neck and orbital area.
Ideal candidates are men and women who have good bone structure but have sagging skin, excessive lines or deep creases. Neck Lift and orbital area are separate procedures – see Neck Lift procedure.
There is no strict age limit for when a Neck or Facelift can be performed, however most suitable candidates are between 40 and 65 years of age.
It's important to remember that while the ageing process can be partially reversed, surgery does not stop the ageing process from continuing, but it can definitely help the patient look more youthful again.
SEE OUR FANTASTIC BANGKOK FACELIFT PACKAGE 
CosMediTour – Facelift
Thailand
Surgeon:
Plastic & Reconstructive Surgeon
Consultation:
Free Surgeon Consultation
Surgery Time:
2 – 6 hours
Anaesthesia:
General Anaesthesia
Note: Twilight Sedation is not used.
Hospitalisation:
1 – 3 nights
Time Away:
10 – 14 nights
Hospital Transfers:
Transfers are included
Post-Operative Appointments:
Follow up 5 – 7 days
Recovery time:
Up to 6 months
Compression Garment:
To be worn initially (please refer to Surgeons recommendations)
Incisions usually begin above the hairline, at the temples, continuing in a natural line in front of the ear and curve behind the earlobe into the crease behind the ear, and into or along the lower scalp so as to make scars nearly invisible. Some Surgeons can make the incisions with the cartilage just in the front-inside part of the ear, ending behind the earlobe and lower region of the scalp.
The skin is separated from the fat and muscle below it. If a Neck Lift is being performed with a Facelift, a small incision is placed inconspicuously underneath the chin and excess fat may be removed by either trimming it by hand or by Facial Liposuction. The underlying muscle and fascia are tightened and the skin itself is pulled back, trimmed and sutured into place.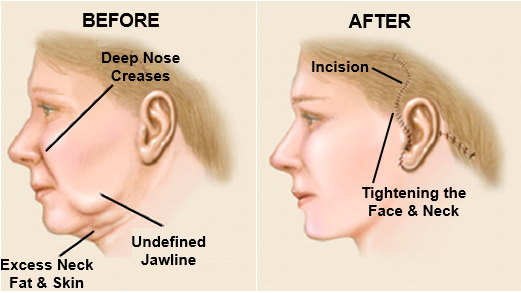 Potential Surgery Risks and Complications vary from patient to patient depending on a range of factors and the extent of surgical work required. Regardless of how remote, the potential risks are listed below are possible. Your own research is essential especially if you are considering surgery. Following pre and post surgical care and instructions will also reduce your risks. See the following potential risks and complications include and not limited to:
Medical:
Temporary pain, swelling, bruising, infection, scarring, fluid build up (seroma), bleeding, scarring, reaction to anaesthesia and medications
Suture complications
Poor wound healing or Necrosis (common with smokers)
Injury to the nerves that control facial muscles
Hyperpigmentation caused by the bruising
Psychiatric disorders – distorted perception and expectations post surgery
Aesthetic:
Asymmetry (Symmetry never guaranteed)
"Windswept" appearance
Laxity relapses of the skin (in various areas)
Small dog ears at Incision sites (behind ears)
Hyperpigmentation caused by the bruising
Facelift Price Includes:
Facelift Surgery
Surgery at one of Thailand's JCI Internationally Accredited Hospitals in Bangkok or Phuket
Operating Theatre, Anaesthesiologist and all associated surgery and Hospital charges
All drugs, routine and take home medications
Surgery by a renowned Plastic Surgeon, including pre and post-surgery consultations
Transfers: Airport / Hospital / Hotel / All Hospital follow ups / Airport – Hospital transfers are included for procedures over 90,000 THB. (Yanhee Hospital do not offer transfers)
1 – 3 nights (post-surgery) in a Private Hospital Room
CosMediTour's Bangkok Medical and Aesthetic Clinic (in AETAS Bangkok Hotel complex) with support from Doctors and Registered Nurses (if required – Bangkok only)
CosMediTour Destination Client Relations Manager
Private 'Invitation Only' CosMediTour Surgery Forum to connect up with many other CosMediTour Clients and Patients staying in Thailand before you travel and during your stay
* Note: All procedures in Thailand, are based on standard, non-complicated procedure patients.
FAQ's – Facelift
Is there much swelling from a Facelift procedure?
Immediately after the procedure, you generally shouldn't notice too much swelling, although by day 3 you may notice more. You may not even recognise yourself but don't be alarmed as swelling will decrease. In a couple of weeks, your swelling will generally reduce to almost no swelling.
How much time off should I take from work and exercising?
Your Surgeon will advise you of a specific time frame, but generally, you should plan to take 1-2 weeks off work, so you can recover from the swelling and bruising. Exercise should be avoided for around 4 weeks post-surgery.
Will I have scars?
The scars of a Facelift performed by a skilled Surgeon are generally well hidden and are usually only noticeable to you.
Have a question, or like to enquire about a procedure?