Ear Pinning
People with prominent ears are often self-conscious, and can resort to covering their protruding ear/s with longer hair or hairstyles that cover the ears. Children with prominent ears are also often teased at school with ensuing confidence and self-esteem issues. Fortunately, prominent ears can be surgically corrected very successfully.
'Ear Pinning' or Otoplasty is performed to create or restore the centre fold to disproportionately large or prominent ears, bringing them closer to the head.
CosMediTour – Ear Pinning
Thailand
Surgeon:
Plastic & Reconstructive Surgeon
Consultation:
Free Surgeon Consultation
Surgery Time:
1 – 2 hours
Anaesthesia:
General Anaesthesia (for Children) or Local Anaesthesia (for Adults)
Note: Twilight Sedation is not used. What is this?
Hospitalisation:
Outpatient
Time Away:
9 nights
Hospital Transfers:
Not included for outpatient procedures
Post-Operative Appointments:
Follow up 5 – 7 days
Recovery time:
Up to 3 months
Post Surgery Garment
To be worn up to 3 months
An incision is made on the back of the ear so the scar is concealed, then through this incision the cartilage is exposed and either part of it excised or simply reshaped to allow it to fold back towards the head. Sometimes small segments of cartilage may need to be excised to correct the shape completely.
The scar on the back of the ear is present and well-hidden by the ear itself. The incision is closed with dissolving sutures and a dressing applied. A bandage on the ears similar to a turban will be placed around your head.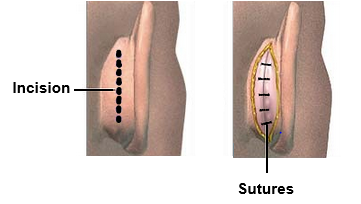 Potential Surgery Risks and Complications vary from patient to patient depending on a range of factors and the extent of surgical work required. Regardless of how remote, the potential risks are listed below are possible. Your own research is essential especially if you are considering surgery. Following pre and post surgical care and instructions will also reduce your risks. See the following potential risks and complications include and not limited to:
Medical:
Pain, infection, haematoma, inflammation, swelling, reaction to anaesthesia and other medications
Suture complications
Aesthetic:
Asymmetry (Symmetry never guaranteed)
Overcorrection and unnatural contour
Ear Pinning Price Includes:
Ear Pinning (Otoplasty) Surgery
Surgery at one of Thailand's JCI Internationally Accredited Hospitals in Bangkok or Phuket
Operating Theatre, Anaesthesiologist and all associated surgery & Hospital charges
All drugs, routine and take home medications
Surgery by a renowned Plastic Surgeon, including pre and post-surgery consultations
Transfers: Airport / Hospital / Hotel / All Hospital follow ups / Airport – Hospital transfers are only included for procedures over 90,000 THB. (Yanhee Hospital do not offer transfers)
1 – 2 nights (post-surgery) in a Private Hospital Room
CosMediTour's Bangkok Medical and Aesthetic Clinic (in AETAS Bangkok Hotel complex) with support from Doctors and Registered Nurses (if required – Bangkok only)
CosMediTour Destination Client Relations Manager
Private 'Invitation Only' CosMediTour Surgery Forum to connect up with many other CosMediTour Clients and Patients staying in Thailand before you travel and during your stay
* Note: All procedures in Thailand, are based on standard, non-complicated procedure patients.
FAQ's – Ear Pinning
General or Local Anesthetic?
We can offer this procedure under General or Local Anesthetic. There is a difference in price during a General Anesthetic procedure as a trained Anesthesiologist is required to be present at all times, and to monitor your body closely (blood pressure, temperature and respiration etc.)
Will I bruise and swell afterwards and how long will it last?
Unfortunately it is impossible to do surgery without causing swelling. Our Surgeons will do everything possible to minimise the amount of swelling that occurs. Generally, post-operative swelling begins to resolve at the end of the first week. Bruising will generally last for around 10 days. Some patients don't tend to bruise and may have minimal if any bruising.
Do I need parental consent if I am under 20?
Yes. In Thailand you will need parental consent if you are under 20 years of age.
Have a question, or like to enquire about a procedure?