Am I a suitable weight for surgery?

Is there a weight restriction for having surgery?
Yes,  if you're considering any cosmetic surgery procedure, CosMediTour Surgeons recommend being within a healthy BMI range or at your goal weight prior to surgery! You can check your Body Mass Index (BMI) here.
Please note, select CosMediTour Surgeons may not accept patients that have a BMI over 26 (classed as technically overweight on the BMI scale) or BMI under 17 (classed as technically underweight on the BMI scale). Although, this will be determined on a case by case based once we have received all required assessment photographs and health information.
Why can't I have surgery if I'm not a healthy weight or BMI?

The reason select CosMediTour Surgeons will not accept patients due to weight or BMI is due to the associated health risks and the potential of substandard results. You want to achieve the best results possible right? Well, reaching your ideal body weight will greatly improve your post surgery outcome!
Procedures such as Breast Augmentation, Breast Lift, Breast Reduction, Abdominoplasty (Tummy Tuck), Liposuction and even a Facelift are all impacted dramatically by weight loss prior to surgery and maintenance afterwards. Being at a healthy and stable weight prior to surgery typically means that you are more likely to have a better surgery outcome, recovery and healing time.
Why you need to be a healthy weight
prior

to surgery

Those with a higher BMI are more likely to experience infection during recovery. If you have a BMI of 35-36 or above, this makes you nearly 75% more susceptible to infection. Those who have a lower BMI are likely to experience surgical complications such as rippling, lack of tissue, an overly 'fake looking' result from implants. Being a healthy weight will help you to achieve the best possible surgery outcome.
If you are on a weight loss/weight gain plan:
That's great! You're in the process of reaching your goal weight and one step closer to being eligible for surgery. However, only when you have reached your ideal weight goal, can you start the assessment process with CosMediTour – not before. And ideally, we like to ensure you can maintain this ideal weight so that you do not fluctuate post surgery and jeopardise your results with weight gain.
Losing weight will affect each person's skin differently and varying degrees of sagging may occur. Therefore, the procedure or technique that you require may change after weight loss (depending on how much weight you have lost).
Cosmetic Surgery is NOT a weight loss alternative!
Surgery should be the reward for your weight loss achievements! It is not a remedy for obesity or a substitute for diet and exercise. Once the weight has been lost there are several surgical procedures available to remove excess skin, stubborn pockets of fat, and help to shape and contour your body to help you reach your ideal body!
Why it's important to be a healthy AND 
maintainable

weight

Gaining weight post surgery will affect your aesthetic outcome to some degree and will be the biggest contributing factor to your dissatisfaction. Particularly for Breast and Tummy Tuck procedure clients. At this point, Surgeons cannot be held responsible for your outcome and any hospital guarantee and additional Warranty Coverage will not be valid. If wish to have revision surgery to correct this, you will be required to lose the weight prior to any surgery being considered by the Surgeon.
Where should I start on my weight-loss journey?
1. Write down your goals
It's good to have a daily reminder of why you're on this journey. Writing down your goals can also motivate you each day – Just think about the end result and the effect it will have on your life and your self-esteem!
2. Eat a balanced and healthy diet
Begin with ensuring your body is well nourished. Consuming fresh fruit and vegetables and maintaining a balanced diet is 80% of your weight loss efforts. Cut out sugary snacks, take away, alcohol and carb heavy foods and find healthier alternatives. There is an abundance of information on the internet, use it to find a plan that will suit your lifestyle and preferences. If you're struggling, you can always consult a nutritionist or Personal trainer for a diet plan.
3. Begin regular exercises
Why not start your morning off with a light 30-40 minute walk every day on an empty stomach. Not only will this burn fat, but it's also a great way to start the day and keep you focused on your goals. Slowly start introducing more intense workouts or even join a gym and hire a personal trainer! Make sure you take progress photos for weight-loss tracking and motivation!
4. DON'T GIVE UP!
Some days will be harder than others and you can easily give in to temptation and go back to bad habits. If you slip up and miss a gym session or eat a naughty meal, don't punish yourself. Pull out your list of goals, regather yourself and start again. Everyone has their weak moments every now and then, just move on and learn from your mistakes.
For some weight loss motivation, check out our client Tara's Mummy Makeover story!
Tara lost 60kgs reaching her goal weight of 70kgs. She then underwent a full mummy makeover – Breast Augmentation + Lift + tummy tuck surgery.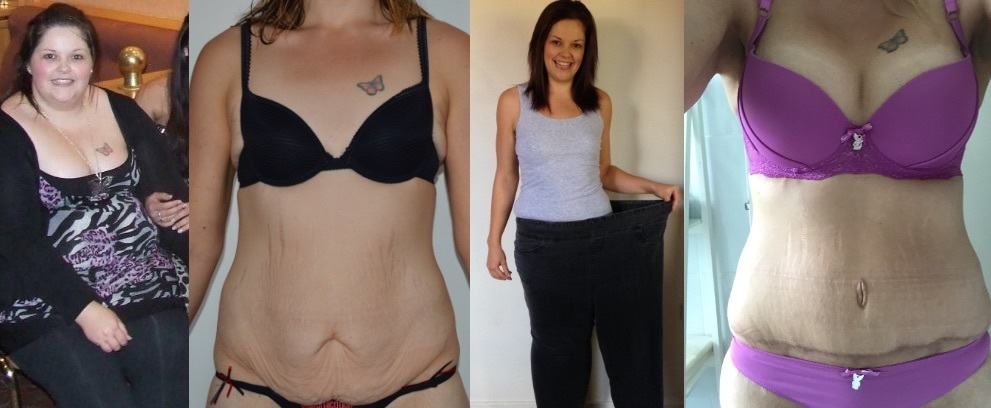 Disclaimer: Please note any information provided should be used only as an information guide and not CosMediTour giving advice. Please ensure you do your own valid surgery research and seek advice from a general practitioner to enable you to be fully informed about surgery.
Have a question, or would you like to enquire about a procedure?