Dr. Chatpong Sastarasadhit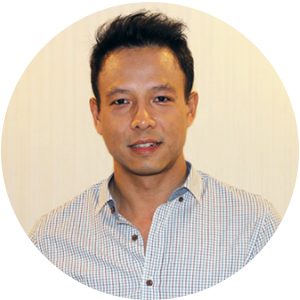 Dr. Chatpong has been providing CosMediTour clients with optimum surgery results for over 5 years. He is extremely dedicated to all of his clients providing the highest standard of care and tailoring his advanced surgical techniques to suit each client's desired outcome.
He is known for being extremely thorough with magnificent attention to detail, described by his clients as kind, considerate and professional. Dr. Chatpong genuinely cares about each and every client he sees and will go above and beyond to ensure they feel comfortable with their decision and confident in his ability to produce a great surgery outcome.  His special interests include facial procedures such as Rhinoplasty, Blepharoplasty and Face Lift surgery, as well as Breast Augmentation surgery.
Click to see Full Resume

Dr. Chatpong Resume

Education:
– 1996 M.D. Faculty of Medicine, Ramathibodi Hospital, Mahidol University
– 1996 – 1997 Internship Queen Sawangwattana Memorial hospital, Sriracha, Chonburi.
– 1999 – 2002 Resident training in General Surgery department, King Chulalongkorn Memorial Hospital
– 2002 – 2004 Resident training in Plastic and Reconstructive Surgery division, King Chulalongkorn Memorial Hospital

Board Certification
– 2004 Diploma Thai Board of General Surgery
– 2006 Diploma Thai Board of Plastic Surgery
– 2008 Certificate of Attendance in the Art of Rhinoplasty Course
– The American Academy of Facial and Reconstructive Surgery, San Francisco, USA.

Memberships in Professional Organization
– Thailand Medical Council
– Royal College of Surgeons of Thailand
– Society of Plastic and Reconstructive Surgeons of Thailand
– Society of Aesthetic Plastic Surgeons of Thailand
– Oriental Society of Aesthetic Plastic Surgeons
| Top 3 Preferred Procedures | Procedure Price from |
| --- | --- |
| 1. Full Facelift | $9,375* |
| 2. Rhinoplasty | $7,291* |
| 3. Breast Augmentation | $4,791* |
Procedure prices include:
Surgery by Plastic & Reconstructive Surgeon Dr. Chatpong Sastarasadhit
Surgery in JCI Accredited Samitivej Chinatown Hospital
Minimum 1-2 night Hospital stay in private luxury Hospital Room
General Anaesthesia administered by a Specialist Anaesthetist
Post surgery aftercare
Highest quality implant brands (for breast Procedures)
VIP Transfers
7 day CosMediTour Support Team in Bangkok
All CosMediTour Services including exclusive Private Group Forum + MUCH MORE!
*All AUD amounts are based on 1 AUD = 24 THB. This rate fluctuates daily so please check with us for the current exchange rate.
IMPORTANT!
Due to popularity, Dr. Chatpong has limited surgery dates available. ENQUIRE NOW for more info or get a FREE ASSESSMENT to start your surgery journey.
Have a question, or like to enquire about a procedure?