Male Breast Reduction Gynecomastia
Male Breast Reduction surgery is a popular technique performed by CosMediTour Plastic Surgeons to remove excess skin from significant weight loss, excess localised fat and removal of glandular breast tissue, also known as Gynecomastia, which can be the result of steroid or steroid like substance usage.
Although, this common procedure is sometimes not often discussed openly due to the certain stigma men can feel about requiring breast surgery. Results, can include a flatter, firmer, better-contoured chest by removing fat and glandular tissue, whilst assisting in increasing self-esteem and confidence.
CosMediTour – Male Breast Reduction
Thailand
Surgeon:
Plastic & Reconstructive Surgeon
Consultation:
Free Surgeon Consultation
Surgery Time:
2 – 3+ hours
Anaesthesia:
General Anaesthesia
Note: Twilight Sedation is not used.
Hospitalisation:
1 night or outpatient
Time Away:
7 nights
Hospital Transfers:
Transfers are included
Post-Operative Appointments:
Follow up 5 – 7 days
Recovery time:
Up to 6 months
Excision – excision techniques are recommended where glandular breast tissue or excess skin must be removed. Incision patterns vary depending on the specific conditions and surgical preference. Some incisions may be visible or concealed within natural contours.
Vaser Liposuction – an Ultrasound technology that liquefies the fat and allows for greater precision and noticeably superior results. This technique is designed to virtually eliminate bleeding during surgery and to reduce inflammation and bruising. Incisions are closed and dressed and a special garment is used to apply pressure. Learn more about Liposuction.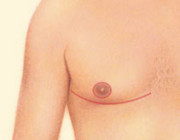 Composition/Severity
Type of procedure
Incisions
Fatty breast tissue
Liposuction – See Liposuction
Small (2 – 3 mm) incision in chest skin
Glandular breast tissue
Gland removal
Around the lower areola
Excess skin in areola area
(puffy looking nipples)
Periareolar skin removal
Around the entire areola
Significant excess skin
Removal and lifting of hanging chest skin
Around the areola and in the breast fold
Potential Surgery Risks and Complications vary from patient to patient depending on a range of factors and the extent of surgical work required. Regardless of how remote, the potential risks are listed below are possible. Your own research is essential especially if you are considering surgery. Following pre and post surgical care and instructions will also reduce your risks. See the following potential risks and complications include and not limited to:
Medical:
Temporary pain, swelling, bruising, infection, scarring, fluid build up (seroma), bleeding and haematoma, numbness, Keloid scarring, reaction to anaesthesia and medications
Change in nipple sensation (hypersensitive or under sensitive)
Poor healing or Necrosis (common with smokers)
Suture complications
Aesthetic:
Asymmetry and unevenly positioned nipples (never guaranteed)
Bagginess of skin and skin irregularity
Burns to the skin if Ultrasonic liposuction is used in-conjunction
Male Breast Reduction Price Includes:
Male Breast Reduction Surgery
Surgery at one of Thailand's JCI Internationally Accredited Hospitals in Bangkok or Phuket
Operating Theatre, Anaesthesiologist and all associated surgery & Hospital charges
All drugs, routine and take home medications
Surgery by a renowned Plastic Surgeon, including pre and post-surgery consultations
Transfers: Airport / Hospital / Hotel / Hospital follow up / Airport – Hospital transfers are included for procedures over 90,000 THB. (Yanhee Hospital do not offer transfers)
1 night or outpatient (post-surgery) in a Private Hospital Room
CosMediTour's Bangkok Medical and Aesthetic Clinic (in AETAS Bangkok Hotel complex) with support from Doctors and Registered Nurses (if required – Bangkok only)
CosMediTour Destination Client Relations Manager
Private 'Invitation Only' CosMediTour Surgery Forum to connect up with many other CosMediTour Clients and Patients staying in Thailand before you travel and during your stay
* Note: All procedures in Thailand, are based on standard, non-complicated procedure patients.
FAQ's – Male Breast Revision
Will there be much scarring after the procedure?
Your Plastic and Reconstructive Surgeon will ensure that there is minimal scarring from your breast reduction. Incisions are positioned to be least noticeable, if not hidden, along the lower border of the areola, where the pigmented and paler skin comes together. Within 6 – 12 months after surgery most scars will usually fade from the surrounding skin.
Is there much pain after having a Male Breast Reduction?
Generally there is mild to moderate pain after a Male Breast Reduction. Pain relief medication prescribed post-surgery by your Surgeon can assist with managing this if required.
What happens during recovery after Male Breast Reduction surgery?
To assist healing and help reduce scarring, a surgical vest needs to be worn under your clothing for a few days. It is then replaced with less bulky dressings and a compression vest is worn for a few more weeks, during which time you are unable to exercise the upper part of your body. The stitches around the areola are dissolvable and do not need to be removed. Most patients take a week away from work, but some return even sooner.
Could suspected Gynaecomastia be Breast Cancer?
This is uncommon and male breast cancer is rare but if you find a firm, painless lump in your breast (generally on one side) you should seek medical advice.
Have a question, or like to enquire about a procedure?