Breast Lift / Breast Lift + Augmentation
Over time a woman's breasts change for a number of reasons – breastfeeding, fluctuating weight, skin elasticity, genetics and ageing, causing the breasts to sag (ptosis) to varying degrees. A Breast Lift with or without Augmentation is a great solution to enhance the contour, firmness and appearance of the breasts.
This procedure raises and firms sagging breasts by removing excess skin and tissue, and tightening the surrounding tissue – before implants are inserted to restore firmness and overall size and shape. This procedure can also incorporate a breast reduction and areola/nipple correction or repositioning.
See here for more general information about surgery.
CosMediTour – Breast Lift / Breast Lift + Augmentation
Thailand
Surgeon:
Plastic & Reconstructive Surgeon
Consultation:
Free Surgeon Consultation
Surgery Time:
2 – 3+ hours
Anaesthesia:
General Anaesthesia
Note: Twilight Sedation is not used. What is this?
Hospitalisation:
 2 – 3 nights
Time Away:
10 – 16 nights
Hospital Transfers:
Transfers are included
Post-Operative Appointments:
Follow up 5 – 7 days
Recovery time:
6 – 12 months
To find out more information regarding the brands, sizes, shapes, profiles of implants; and incision sites, please click the button below to view on our breast implant page.
Technique Options
Depending on the level of sagging (ptosis), there are several breast lift technique options. These are decided by the Surgeon on a case-by-case basis.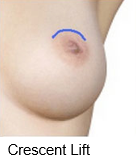 Crescent Lift (Nipple)
Involves removing a crescent-shaped section of tissue above the areola and pulling the skin higher towards the top of the breast. This is suitable for patients with slight sagging (ptosis) requiring a minor lift.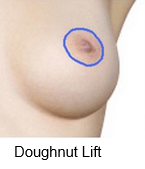 Doughnut Lift (Periareolar)
A section of tissue around the areola border will be cut in the shape of a doughnut and removed. In some cases, a little more tissue is removed above the areola (as with the Crescent Lift) to compensate for a lifting effect when sutured. This is suitable for patients with slight sagging (ptosis) and smaller breasts.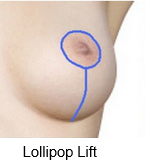 Lollipop Lift (Vertical Lift)
The incision is made around the nipple area with a straight line running from under the areola to the Inframammary Breast Fold (IMF). This lift is suitable for those patients who have larger breasts and medium sagging (ptosis).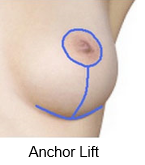 Anchor Lift (Full Mastopexy)
This involves an anchor-shaped incision, following the natural curve of the breast starting at the base of the areola, then runs down the breast fold. Nipple removal and repositioning will be necessary. This technique is for those patients with larger breasts and higher degree of sagging (ptosis), where the nipple lies below the Inframammary Breast Fold (IMF).
Potential Surgery Risks and Complications vary from patient to patient depending on a range of factors and the extent of surgical work required. Regardless of how remote, the potential risks are listed below are possible. Your own research is essential especially if you are considering surgery. Following pre and post surgical care and instructions will also reduce your risks. See the following potential risks and complications include and not limited to:
Medical:
Temporary pain, swelling, bruising, infection, scarring, fluid build up (seroma), bleeding and haematoma, numbness, Keloid scarring, reaction to anaesthesia and medications
Poor healing or Necrosis (common with smokers)
Suture complications
Wound separation – patients who receive breast augmentation during breast lift should be prepared for wound separation, especially if proceeding with a large implant size
Loss of sensation in the nipples and areolas after repositioning
Change in nipple sensation (hypersensitive or under sensitive)
Implant Rupture
Aesthetic:
Mismatched breast size and unevenly positioned nipples (asymmetry)
Stretch marks (abrupt expansion of the tissues)
Implant folding, rotation, rippling, bottoming out, asymmetry (symmetry is never guaranteed, Capsular contracture, Implant rejection
Scarring – depending on the technique used (will fade over time)
Breast Lift / Breast Lift + Augmentation Price Includes:
Breast Lift / Breast Lift + Augmentation Surgery Surgery
No surcharge for dual plane implant placement (above / under pectoral muscle) – (Bangpakok9 International Hospital only)
Surgery at one of Thailand's JCI Internationally Accredited Hospitals in Bangkok or Phuket
Operating Theatre, Anaesthesiologist and all associated surgery and Hospital charges
All drugs, routine and take home medications
Surgery by a renowned Plastic Surgeon, including pre and post-surgery consultations
Highest quality Allergan or Mentor smooth or textured, round silicone gel implants (under 400cc in Bangkok and under 500cc in Phuket)Transfers: Airport / Hospital / Hotel / All Hospital follow ups / Airport
Hospital transfers are included for procedures over 90,000 THB. (Yanhee Hospital do not offer transfers)
1 – 3+ nights (post-surgery) in a Private Hospital RoomCosMediTour's Bangkok Medical and Aesthetic Clinic (in AETAS Bangkok Hotel complex) with support from Doctors and Registered Nurses (if required – Bangkok only)
CosMediTour Destination Client Relations Manager
Private 'Invitation Only' CosMediTour Surgery Forum to connect up with many other CosMediTour Clients and Patients staying in Thailand before you travel and during your stay
* Note: All procedures in Thailand, are based on standard, non-complicated procedure patients.
FAQ's – Breast Lift and Augmentation
How long will it take to recover?
This will depend on the techniques used and everyone has a different healing response. Full recovery can take up to 6 months or more, and the scars will heal over time with good care. Generally you will be recovered enough to work within 1 – 2 weeks. However, if your work requires more strenuous activities and lifting, it is advisable to wait longer before returning to full work duties. Car travel should be minimised and with care (due to the seatbelt) for the first 2 weeks.
Can I breastfeed after a Breast Lift (+Augmentation)?
Most women go on to breastfeed successfully post Breast Lift with Augmentation, however, it is important to remember that some women cannot breastfeed irrespective of surgery and should see GP prior to surgery to discuss. If this is something you are concerned about, please research this further and discuss with your CosMediTour Surgeon during your consultation.
How long before I can exercise?
Discuss with your Surgeon but generally a minimum 3 – 4 weeks post-surgery. NO underwater submerging for long periods of time is recommended. If your suture sites become wet, you must dry them immediately. Other activities such as shopping or sedentary non-physical work such as office work can usually be undertaken after 3 – 4 days. Your support garment is to be worn as instructed by your Surgeon.
Will I get scars from a Breast Lift?
As with any surgery, Breast Lift surgery does leave some scarring where the incisions have been made. Initially, your scars will be sensitive and a red colour, but these will fade over time and with good care. The degree of fading depends on a large degree on your skin pigment and post-surgery care.
Will my breasts sag again after surgery?
Yes they will over time. Results post-surgery are based on your natural internal and internal breast anatomy, i.e. breast tissue weight, fat tissue, gland lobules, skin elasticity, weight fluctuations, overall physical activities and genetics. If you gain excess weight after surgery this will fasten the onset of further sagging.
For more information, see our Educational Blog  – A Breast Lift, Breast Augmentation or Both? 
Have a question, or like to enquire about a procedure?