Breast Augmentation, Boob Job or Breast Implants
Commonly known as a 'Boob Job', this is the most popular of all the plastic surgery procedures performed. Breast Augmentation enhances the size, shape, fullness, proportion and appearance of your natural breasts by insertion of Silicone Gel implants. Surgical techniques, implant shape, size and profile will differ on a case-by-case basis, depending on both the patient's anatomy and desired outcome. There are many reasons for choosing a Boob Job procedure, but ultimately these come down to personal choice. Breast Implants can boost self-image and confidence, correct genetic issues, and regain shape and volume after breastfeeding or weight loss, and fill out those dresses, tops and swimsuits.
Breast Augmentation Thailand
| | Thailand |
| --- | --- |
| Surgeon: | Plastic & Reconstructive Surgeon |
| Consultation: | Free Surgeon Consultation |
| Surgery Time: | 1 – 2 hours |
| Anaesthesia: | General Anaesthesia. Note: Twilight Sedation is not used. What is this? |
| Hospitalisation: | 1 – 2 nights |
| Time Away: | Minimum 7 nights (Phuket) and 8 nights (Bangkok) |
| Hospital Transfers: | Transfers are included |
| Post-Operative Appointments: | Follow up 5 – 7 days |
| Recovery time: | Up to 6 months |
The more informed you are about Breast Implants the better your understanding of the potential aesthetic results a Plastic Surgeon can achieve for your individual structure. A skilled Plastic Surgeon will be able to perform the full range of implant option and surgical techniques required for you to achieve the best possible aesthetic results. What does this mean? Breast implants are also measured by volume (cubic centimetres – cc's or grams) not cup size. Not taking into account the huge range of implant sizes – there are 2 different implant shapes, over 5 different profiles, 3 different implant surfaces, 3 different incision sites, and 3 different placement options – including 4 different levels of one of these placement options. That's a huge range of options and choices, with only a skilled Plastic Surgeon possessing the training and capability to offer you all options. During your Consultation and Examination your Plastic Surgeon will determine and recommend the preferred surgical technique and implant type, size, shape, profile, incision site and implant placement – based on your anatomy, structure and desired result.
Brands of Implants
All of our Hospitals and Clinics only use the highest quality Cohesive Silicone Gel implants from the world's leading brands including:
As a rule, we do not offer Saline implants, as these are widely acknowledged by Plastic Surgeons as producing inferior results with greater incidence of capsular contracture.
Shape of Implant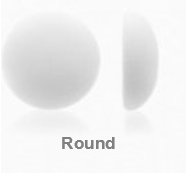 1. Round Implants
Are the more commonly used shape and tend to give a fuller upper pole and a distinct and more round appearance.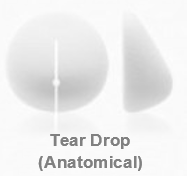 2. Tear Drop (Anatomical) Implants
Are particularly suited to patients with nipples closer to the inframammary fold, those who would prefer a more natural looking breast with minimal upper pole fullness, and those who have a tuberous or tubular breast shape.
Surface: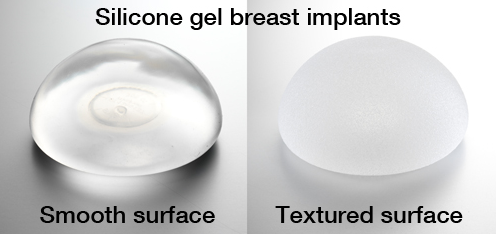 Implants are available in textured or smooth surfaces.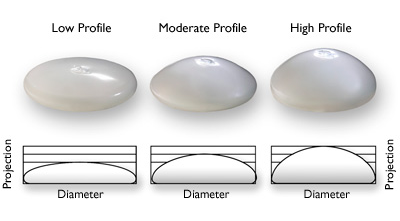 Profiles:
Low
Moderate
Moderate plus
High
Extra high
Lower profile implants have a wider base and lower projection that a higher profile implant, where projection of the breast will be more prominent and a narrower base.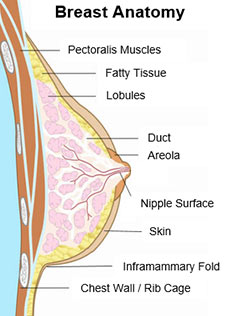 Placement:
The pectoralis major is the large muscle that lies underneath your breast tissue, and extends from the shoulder downwards over the chest wall and attaches in the middle part of the chest wall near the sternum. Implant placement can be submuscular, subglandular or dual plane – as detailed below.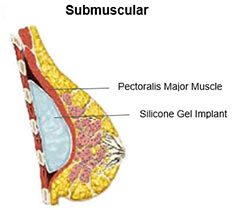 Submuscular (under muscle)
The placement of the implant is below the pectoral muscle, and is well covered to give a more natural look. This placement is generally used for women who have a slimmer build with thin or very little breast tissue.
Subglandular (above muscle)
The placement of the implant is above the pectoral muscle but below the mammary gland, and is generally used for women who have thicker breast tissue, a broad chest wall or want to improve the definition of their breast shape. This placement also allows for the implants to sit closer together to allow for more cleavage. The implant will appear more obvious.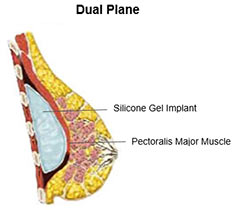 Dual Plane (under/above muscle)
This placement positions the upper part of the implant under the pectoral muscle and the lower part on top of the muscle and under the breast glands. This placement position will not sit as high and is ideally suited to women with minimal breast tissue and those that have 'mild' sagging (ptosis) of the breast with 4 varying levels of dual plane.
A skilled Plastic Surgeon will carefully release the glandular breast tissue from the pectoralis muscle, allowing the breast tissue to fall more naturally over the implant. Dual plane placement is also associated with lower incidences of capsular contracture. A number of our most experienced and skilled Plastic Surgeons in Thailand and Australia now favour dual plane placement with both round and tear drop implants for most patients, as this enables them to achieve more predictable and superior aesthetic results.
Size:
Deciding on the implant size that best suits your anatomy and your desired 'enhanced' look, will be done with your Plastic Surgeon. We recommend that you do not focus on implant size or bra cup size, but that you decide on the look or appearance of the breasts that you would like to achieve to suit your own anatomy. The size of implants range from 120cc – 800cc and your natural breast tissue is taken into consideration when determining the final size and placement of your implants.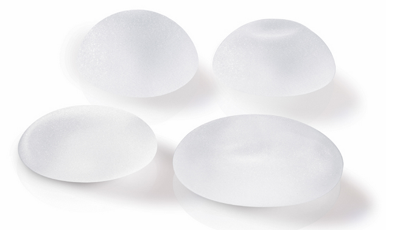 Incision Sites:
Breast Crease (Inframammary) – the inframammary fold or IMF is the most commonly used site. This incision site allows the Surgeon to have direct visualisation and more accurate access and placement. Also a faster recovery time. Armpit (Transaxillary) –  the incision is made in the crease of the armpit, in a high location on the front side. The main advantage of this placement, is no visible scars under the breast or around the areola. Nipple (Periareolar) – the incision is around the underside of the areola where it meets the edge of the breast skin. This is an option for patients who would prefer a scar under the areola than in the breast fold. However, the size of the implant is more limited.

Potential Surgery Risks and Complications vary from patient to patient depending on a range of factors and the extent of surgical work required. Regardless of how remote, the potential risks are listed below are possible. Your own research is essential especially if you are considering surgery. Following pre and post surgical care and instructions will also reduce your risks. See the following potential risks and complications include and not limited to:
Medical:
Temporary pain, swelling, bruising, infection, scarring, fluid build up (seroma), bleeding and haematoma, numbness, Keloid scarring, reaction to anaesthesia and medications
Change in nipple sensation (hypersensitive or under sensitive)
Poor healing or Necrosis (common with smokers)
Implant Rupture
Aesthetic:
Implant folding, rotation, rippling, bottoming out, asymmetry (symmetry is never guaranteed, double bubble (especially women with "tuberous breasts"), Capsular contracture, Implant rejection
Stretch marks (abrupt expansion of the tissues)
Breast Augmentation Price Includes:
 Surgery

Breast Augmentation
No surcharge for dual plane implant placement (above / under pectoral muscle) – (Bangpakok9 International Hospital only)

Hospital

Surgery at one of Thailand's JCI Internationally Accredited Hospitals in Bangkok or Phuket
Operating Theatre, Anaesthesiologist and all associated surgery and Hospital charges
All drugs, routine and take home medications

Plastic Surgeon

Surgery by a renowned Plastic Surgeon, including pre and post-surgery consultations

Highest Quality Implants

Highest quality Motiva or Mentor, smooth or textured, round silicone gel implants (under 400cc in Bangkok and under 500cc in Phuket)

Transfers

Transfers: Airport / Hospital / Hotel / All Hospital follow ups / Airport
Hospital transfers are included for procedures over 90,000 THB.

Hospital Accommodation

1 – 2 nights (post-surgery) in a Private Hospital Room

CosMediTour Support

CosMediTour's Bangkok Medical and Aesthetic Clinic (in AETAS Bangkok Hotel complex) with support from Doctors and Registered Nurses (if required – Bangkok only)
CosMediTour Destination Client Relations Manager
Private 'Invitation Only' CosMediTour Surgery Forum to connect up with many other CosMediTour Clients and Patients staying in Thailand before you travel and during your stay
* Note: All procedures in Thailand, are based on standard, non-complicated procedure patients.
FAQ's – Boob Job in Thailand
How long will it take to recover?
Everyone's healing process is different. Generally you will be recovered enough to work within 1 – 2 weeks. However, if your work requires more strenuous activities and lifting, is it advisable to wait longer before returning to full work duties. Car travel should be minimised and with care (due to the seatbelt) for the first 2 weeks.
How long do breast implants last?
Most high quality implants usually last a very long time, 10 – 20+ years, and all our implants have either a 10 year or lifetime manufacturer warranty. The main reasons for replacing implants is to upgrade to a different size or brand, the implants have lost their integrity, or additional surgery such as a Breast Lift is also required.
When can I wear an underwire bra?
Check with your Surgeon but generally no underwire bra should be worn for the first 6 – 8 weeks post-surgery for breast fold incision sites. However, support garments must be worn for the time the Surgeon recommends.
How long before I can exercise?
Discuss this with your Surgeon, as everyone is different depending on your specific breast procedure technique and your own body. Between 2 – 4 months is a good recovery period, before any arm or chest muscle exercises and definitely no high impact aerobic activities – running, jumping, jogging etc.
How much pain will I have?
Each person has a different pain threshold so it is hard to say what you will feel. Mild to moderate pain and sometimes even severe discomfort is normal. Pain medication is prescribed and can be adjusted as required. The pain normally lasts from 1 – 2 weeks and should lessen every day.
Should I wait until after I have babies before I have surgery?
This is purely a personal decision. Just keep in mind that there will be changes to your breasts during pregnancy, post natal and post breastfeeding, which will change the way your natural breasts will look. It is the natural breast tissue that changes only, and implants will not affect this or the ability to produce breast milk. The majority of our patients have surgery long before planning children. – See here for further information!
How long after breastfeeding can I have Breast Implants?
Our Hospitals and Clinics have different policies about this is usually 6 – 12 months after your milk dries up (post-breastfeeding) before you are able to have breast surgery. See here for further information!
Can I breastfeed after a Boob Job?
Yes you can – there is a small possibility of changes to nerve sensitivity in the breast and/or nipple as a result of Breast Augmentation, although it does not directly affect the milk ducts there is pressure applied by the implant which can result in the amount of milk.
See our Educational Blog "What to Expect When You're Expecting…A Breast Augmentation" For additional information! 
---
Don't miss your Hot Deal! Click here to lock in your date now!
Have a question, or like to enquire about a procedure?