Tummy Tuck
A Tummy Tuck procedure removes excess sagging skin, a protruding sagging abdomen or crêpe skin, from the middle and lower abdomen, for a firmer and smoother stomach surface area. Excess fat can also be removed via Liposuction during surgery. This procedure is ideal for patients with loose or saggy skin or fat tissues following pregnancy or weight loss.
Performed by a skilled and superior Plastic Surgeon in either Bangkok or Phuket, a Tummy Tuck can achieve a very noticeable reshaping of the entire abdominal region.
SEE OUR LUXURY BANGKOK TUMMY TUCK PACKAGE
CosMediTour – Tummy Tuck
Thailand
Surgeon:
Plastic & Reconstructive Surgeon
Consultation:
Free Surgeon Consultation
Surgery Time:
2 – 6 hours
Anaesthesia:
General Anaesthesia
Note: Twilight Sedation is not used.
Hospitalisation:
2- 4 nights
Time Away:
12 – 14+ nights
Hospital Transfers:
Transfers are included
Post-Operative Appointments:
Follow up 5 – 7 days
Recovery time:
Up to 6 months
Compression Garment:
Must be worn up to 3+ months
Abdominal surgery and/or contouring can include more than 1 standard procedure, some of these may include: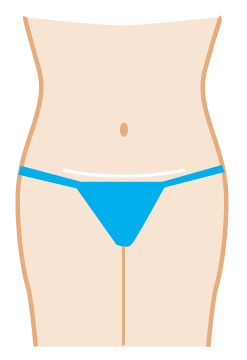 Mini Abdominoplasty
This is a smaller Abdominoplasty, also called a Mini Tummy Tuck, this addresses the excess skin below the belly button but does not allow for the muscles to tighten. The advantage of using this procedure is a shorter, less visible scar.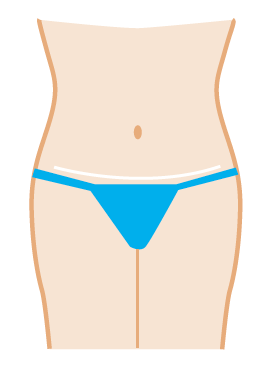 Full Abdominoplasty
Involves removing the skin below the belly button and tightening the muscles. A Tummy Tuck can also be combined with abdominal Liposuction to remove the fat deposits.
By using this technique, you will achieve maximum tightening of the abdominal tissue. However, the incision will usually run from hip to hip.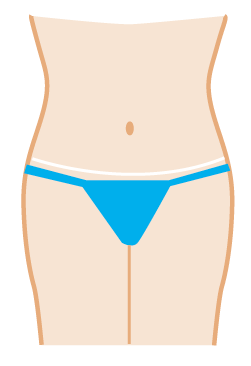 Extended Abdominoplasty
Is used if weight loss has led to excess skin extending around the hip. An extension of the Abdominoplasty can be used to remove excess skin over the hip to improve body contour. The incision is slightly larger than that of a traditional Abdominoplasty.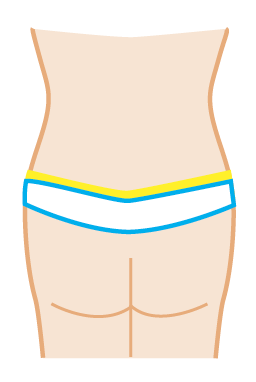 Belt Lipectomy
Also known as 'Lower Body Lift', reshapes the abdomen, hips and buttocks, and is an extension of the Tummy Tuck. The incision runs completely around the front and back of the lower torso. Belt Lipectomy procedure redefines the deeper tissues of the abdomen and flanks, which can be ideal for patients who have lost a significant amount of weight and wanting to remove the redundant skin around the lower torso.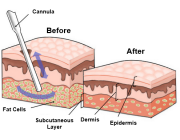 Liposuction
Removes excess fat deposits to contour the shape of the body. Liposuction relies on the skin springing back into place, so this procedure is a good option for patients who are more youthful with more elasticity in their skin. For more information see our Liposuction page.
Potential Surgery Risks and Complications vary from patient to patient depending on a range of factors and the extent of surgical work required. Regardless of how remote, the potential risks are listed below are possible. Your own research is essential especially if you are considering surgery. Following pre and post surgical care and instructions will also reduce your risks. See the following potential risks and complications include and not limited to:
Medical:
Temporary pain, swelling, bruising, infection, scarring, fluid build up (seroma), bleeding and haematoma, blood clots in the legs and chest, thrombosis, embolisms, numbness, Keloid scarring, heavy scarring, reaction to anaesthesia and medications
Long recovery time
Poor wound healing or Necrosis (common with smokers)
Wound separation, Suture complications
Numbness or other changes in skin sensation, nerve damage
Aesthetic:
Asymmetry and uneven incision site (never guaranteed)
Asymmetry of belly button (if repositioning)
Dog ears at ends of incision
Skin loss and Skin discoloration and/or prolonged swelling
Tummy Tuck Price Includes:
Abdominoplasty (Tummy Tuck) Surgery
Surgery at one of Thailand's JCI Internationally Accredited Hospitals in Bangkok or Phuket
Operating Theatre, Anaesthesiologist and all associated surgery and Hospital charges
All drugs, routine and take home medications
Surgery by a renowned Plastic Surgeon, including pre and post-surgery consultations
Transfers: Airport / Hospital / Hotel / All Hospital follow ups / Airport – Hospital transfers are included for procedures over 90,000 THB. (Yanhee Hospital do not offer transfers)
4 nights (post-surgery) in a Private Hospital Room
CosMediTour's Bangkok Medical and Aesthetic Clinic (in AETAS Bangkok Hotel complex) with support from Doctors and Registered Nurses (if required – Bangkok only)
CosMediTour Destination Client Relations Manager
Private 'Invitation Only' CosMediTour Surgery Forum to connect up with many other CosMediTour Clients and Patients staying in Thailand before you travel and during your stay
* Note: All procedures in Thailand, are based on standard, non-complicated procedure patients.
FAQ's – Tummy Tuck
How long will I need to rest after surgery?
It is recommended to have bed rest for 3 – 4 days after your procedure but you should start walking as soon as possible to promote circulation.
Am I able to have a bath or change my dressings?
You will be given full instructions by your Surgeon for bathing and changing of dressings during the recovery period.
How long will I be off work?
You should plan on taking at least 3 weeks off work to ensure that recovery times are met. However, if you have a physical job that requires lifting, you may need to take more time to recover or be put on light duties.
How long will it take for the swelling to subside and I can see the results?
With an Abdominoplasty procedure, visible results will be immediate, although the full recovery benefits may take from 2 – 6 months. Your scar may be red during this time, but will eventually fade but is not usually visible when wearing swimmers or underwear.
How long does the procedure last?
A Tummy Tuck can last for many years. If there are no large weight gains, and no pregnancies after the tummy tuck then the changes can generally be permanent.
What can I expect post-surgery?
You are usually able to walk immediately after surgery and it is in fact encouraged to do so a number of times per day. However at first you may not be able to stand up straight and may need to walk with a bent back. The reason is because the skin of the abdomen will be quite tight and you are usually instructed to remain bent over at least 45 degrees for the first 4 – 5 days after surgery.
For more information, see our Educational Blog – Am I a Suitable Candidate For a Tummy Tuck?
Have a question, or like to enquire about a procedure?