Hymenoplasty
Hymenoplasty is a surgical procedure that uses a flap of vaginal lining to reconstruct a broken hymen or, in some cases, creates one for a woman who was born without. The procedure is typically performed in order to cause bleeding during post-nuptial intercourse. Most often, hymenal reconstruction is sought for the express purpose of well-tightening the hymenal ring to produce difficult entry with probable tearing and the concomitant loss of a small amount of blood.
CosMediTour – Hymenoplasty
Prices:
See our Prices page for full price list
Surgeon:
Plastic & Reconstructive Surgeon
Consultation:
Free Surgeon Consultation
Surgery Time:
1 hour
Anaesthesia:
General Anesthesia or Local Anaesthesia (price varies depending)
Note: Twilight Sedation is not used. What is this?
Hospitalisation:
Outpatient
Time Away:
3 + nights
Hospital Transfers:
Not included for outpatient procedures
Post-Operative Appointments:
Follow up 5 – 7 days
Recovery time:
Up to 6 months
 Hymenoplasty Surgery
Utilizing two to several small, diamond-shaped excisions similar to those utilized for a perineoplasty, with the maximal width of the diamond just inside the hymenal ring and the external apex barely onto the vestibule, each incision is closed vertically with fine absorbable sutures, producing a size-compromized aperture.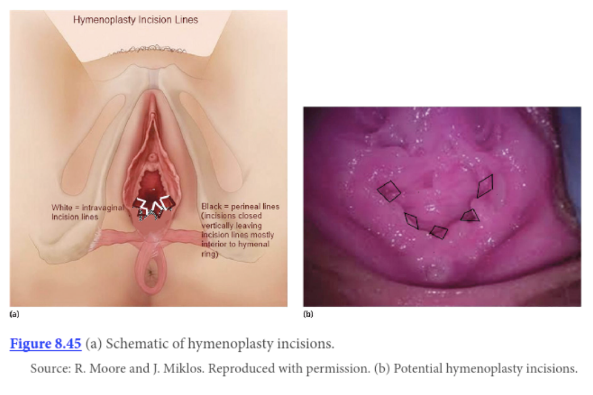 Potential Surgery Risks and Complications vary from patient to patient depending on a range of factors and the extent of surgical work required. Regardless of how remote, the potential risks are listed below are possible. Your own research is essential especially if you are considering surgery. Following pre and post surgical care and instructions will also reduce your risks. See the following potential risks and complications include and not limited to:
Incomplete or prolonged healing
Opening of the incision, irregularity, scarring, or dissymmetry of the size of the labia after surgery
Infection, painful sexual relations, delayed bleeding after surgery, increased or decreased sensation, and other rare events.
The surgical area will be swollen, uneven in appearance, and discolored in the weeks after surgery
Hymenoplasty Price Includes:
Hymenoplasty Surgery
Surgery at one of Thailand's JCI Internationally Accredited Hospitals in Bangkok or Phuket
Operating Theatre, Anaesthesiologist and all associated surgery and Hospital charges
All drugs, routine and take home medications
Surgery by a renowned Plastic Surgeon, including pre and post-surgery consultations
Hospital transfers are only included for procedures over 90,000 THB
CosMediTour's Bangkok Medical and Aesthetic Clinic (in AETAS Bangkok Hotel complex) with support from Doctors and Registered Nurses (if required – Bangkok only)
CosMediTour Destination Client Relations Manager
Private 'Invitation Only' CosMediTour Surgery Forum to connect up with many other CosMediTour Clients and Patients staying in Thailand before you travel and during your stay
* Note: All procedures in Thailand, are based on standard, non-complicated procedure patients.
Have a question, or like to enquire about a procedure?