CosMediTour's Dr Montien Finds Polyp and Removes Clearing Nicole's Airway!
Pre Surgery/ 4 Weeks Post Surgery
CosMediTour client Nicole decided to travel to Bangkok, Thailand and have Rhinoplasty (Nose Correction Revision Surgery with CosMediTour Plastic Surgeon Dr Montien, after being left dissatisfied with previous Septoplasty surgery she had done in Australia. Post surgery Nicole's expectations to correct her breathing quality and aesthetic asymmetry were well and truly achieved by CosMediTour Plastic Surgeon Dr Montien.
Procedure: Rhinoplasty (Nose Correction)
Hospital: World Medical Center
Surgeon: Dr Montien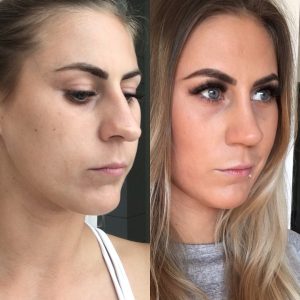 Have a question, or would you like to enquire about a procedure?