Rhiannon Langley's Rhinoplasty Experience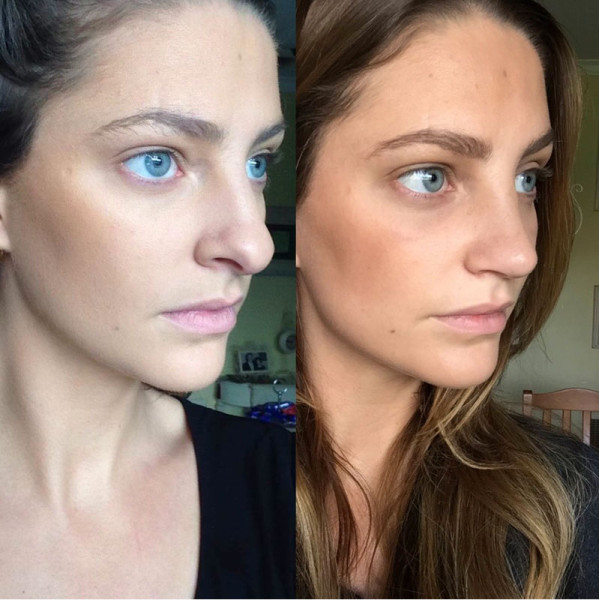 Instagram Blogger Rhiannon Langley talks about her Rhinoplasty Experience in Thailand. Read her story here or on her website:
"Before I start, this is a written up blog on my experience of Rhinoplasty overseas, I don't know much about surgery, it is just what I went through and my journey. The blog post contains some graphic photos, Also mind the grammar, I was more of a maths student.
So where do I begin! First off I'll take you back to why I did it, this is something I've always wanted, I've always said to my friends one day I'll get my nose done, they used to just laugh and think I was joking, every time I took a photo the first thing I would check is if my nose looked big, when something is a major insecurity to you it's all you see, my nose may have not been bad to some of you but to me, it was everything I hated! Last year Jody proposed to me (exciting times ahead) the more I thought about the day the more I wanted this done, so I thought screw it! I'm doing it, everyone's reactions were different, and most of them all said the same thing "you don't even need it" "what's wrong with your nose". It frustrated me because no one understood, but when I put myself in their shoes, why would they, if they didn't have this insecurity about their nose then why would they see the problem I had with mine, so the more I explained it the more they could see why, and everyone started becoming more supportive, saying "if this is what you want and it makes you happy then go for it", my mum still couldn't see why though haha. The biggest issue I had with my nose was a 'hanging columella' (google it if you're not sure) it's like a droop on the tip, it also hung to the right, it drove me insane! My nose was so long for my small face and I couldn't stand it.
Researching Medial Tourism and Agencies
So the first thing I did was google everything on surgeons, prices etc., and when I saw the price in Australia I was like oh hell no! There's no way I can afford to get this done and pay for a wedding! So I started looking overseas, Bangkok seemed to be most popular and reasonably priced, a few of my friends had gone over for their boobs and I also knew someone who had a tummy tuck, I sussed all their photos and messaged them for their opinions on medical tourism, all of them said it was awesome. So I started looking into agencies and the ones they went with, I decided to go with CosMediTour, I looked up the testimonials and feedback, it was all so positive so I thought I'm doing it! I emailed them to get a quote & recommendation then booked it for 6 months so I had enough time to save up. When I looked into Rhinoplasty in most cases it swells for about 6 months after, so I made sure I had enough time before my wedding date for it to go down. I paid for a package, it was awesome, they organised everything, appointments, transfers, hotels and I didn't have to organise a thing, it made it so much easier! Once you get your recommendation they give you a client manager, so you only chat with one person which makes it much easier to keep track of what you have paid or any details you need. We have been to Thailand before, this was my second time and fourth time for Jody, so we decided to only book for the surgery dates recommended then come home, if you haven't seen it before or been there I definitely recommend travelling a little after surgery so you get to see the beautiful country.
To tell or not to tell people?
The more I thought about it the more excited I got and I started to tell everyone! Even my clients were so excited for me! So after a few months, I started thinking, what am I going to do with Instagram, so many people are following me, so I just own it or try to pretend I did nothing? Everyone has an opinion when it comes to plastic surgery no matter who you are, do I want negative feedback on something I've always wanted? Do I put myself through this while I'm going through pain?
I've never been a good liar, so I thought why the hell should I have to hide it or lie? I understand it may not be for everyone but it's for me, so maybe when I explain why they'll understand a little more, just like my friends and family, so I thought – IM OWNING IT! I'm excited! Why shouldn't anyone else be happy for me and excited as well! I wear makeup, I wear hair extensions, I wear fake tan & this all makes me feel awesome, so if changing the shape of my nose does too then why not! Girls get their boobs done all the time! So I started looking up rhino journeys etc and couldn't find much at all, instead of just telling everyone what I was doing I thought I'd blog about it, why not! All you really see is an amazing before and after, no one really shows you what the in-between is like, so I decided to share photos and videos (VBLOG coming soon) not everyone's experiences are the same but I thought sharing mine would help the people who are in the same situation and want to see the not so beautiful recovery stages. And this is how it began.
Heading to Thailand
So off we go! Jody and I headed to an amazing island just off Phuket so we could feel relaxed before I went in for surgery, Paradise Koh Yao Resort & Spa, absolutely breathtaking, we had an amazing room with our bed overlooking the palm trees and ocean. We also had our own private spa and our door shower! I seriously recommend going here! Such a romantic destination. After all the relaxing it was time to head to Bangkok.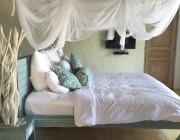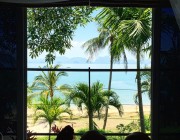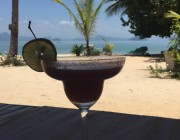 We got off the plane and it was straight to the hospital (Samitivej Srinakarin) it was such a clean and professional hospital, I met all the nurses, they were so cute and so happy, it definitely made me feel more comfortable. Most nurses spoke clear English and were very helpful. I met up with my surgeon Dr Montien, he spoke really good English and asked me what I wanted, CosMediTour had sent him the pictures I sent in of what I wanted, he told me what I wanted was possible but not so much on the bridge, as if he made it too small I would have trouble breathing. He asked me if I wanted a big or small change, originally I had decided on a small change, I didn't want to look that different but then I thought if I'm doing it, I'm going to do it big, I didn't want to regret anything and have to go back again if I wanted more done, so I went through and told him what I didn't like, mostly I just said it's too big for my face, its long, wide, hangs and tilted. He informed me that most people are not symmetric, there's always something, maybe one eyebrow lowers or nostril higher etc., so he started to suggest things, he asked me what I thought of each part of my nose. He told me we would have to break my nose for what I was after, we could shave smaller on the sides and top to create the curve I wanted, and remove the cartilage from the droop, cut my nostrils and bring them in and down as on the side you couldn't see up my nose. I was thrilled with how professional he was, he told me all side effects and complications along with recovery time etc., I knew I was in good hands. After all that I had my blood taken, x-rayed & blood pressure to see if I was fit for surgery.
CosMediTour had booked us in at the Aetas Residence in Bangkok, when we got back we were so tired from travelling we just crashed. Had a big dinner as you can't eat or drink usually after midnight before surgery.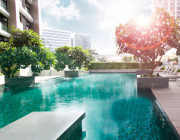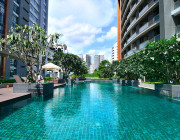 Surgery Day!
On the day of surgery, I was freaking out. What I was about to do had hit me, I started doing the WHAT IFS, what if I regret it, what if I hate it, what if I have complications, I had a small sook and then got it together, everyone I know who's had surgery told me you do this, it's a risk your willing to take. CosMediTour had organized one of their Reps to help us along the way (Mutsee) anyone who's been through CosMediTour knows her. She's such a character and always cracking jokes, which makes you feel relaxed and confident. She came with us to the hospital, spoke to the nurses and was with me for the needle in the hand (think it's called an IV?) blood pressure was taken, weight etc. and then off to our room. The room was insane, it was huge! Had my own private room, flat-screen TV, bar fridge, it was crazy! They let Jody stay as well, he had a couch to sleep on which I thought was so nice, it definitely made me feel better knowing he would be there all night.
Dr Montien came to my room to check on me and told me he'd see me in the surgical room at 130pm, at this point I still hadn't eaten or had any water. I was actually getting excited now! At 1ish I said goodbye to Jody and the nurses came to get me. They rolled me into the surgical room, it was freezing! So so cold! It was all white and very spacious, I felt like I was in a movie set up or something, I've never been in a room like that before, only ever had a minor surgery once in my life. There was about 8 nurses that swarmed me, taking off my robe, wrapping things on my legs, sticking things on my chest, wrapping my hair in a towel, I started to freak out! It was all happening so fast!, I had what I would call a blood pressure taker 'sphygmomanometer' for your legs that went off every 20 seconds on either leg, this apparently helps circulate the blood and helps prevent blood clots. Once I was all hooked up the surgeon and anesthetist came in, he injected the general anesthetic in IV and I was put to sleep, I don't know all the medical terms for this but just go with it haha.
Waking up from Surgery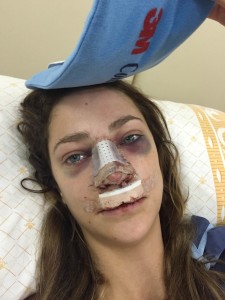 I woke up dizzy and sleepy, I tried to vomit but nothing came out, I wasn't in pain I just felt tight and dry, all I wanted was water, I waited in recovery for an hour before I got to go to my room and see Jody. I remember wondering why I could breathe through my nose, and kept asking why, I still wasn't hungry, all I had was a headache and wanted water. After all that I think my surgery was 6 hours, he said it would be 4hours but it was longer. When I got straight out I only had small bruising and no pain, my surgeon told me everything went really well and to sleep upright but I was so out of it I kept sleeping on my side and turning over, I didn't sleep well at all! I woke up so so swollen, burst a blood vessel in my eye from all the pressure and my left eye was almost closed over, my right was huge too, I took one look at myself and wanted to cry, I knew I would bruise but not this much, they gave me ice packs to help with the swelling. That day I got discharged, the nurses gave me 5 different tablets to take, think it was 2 antibiotics, 1 anti-inflammatory and 2 pain killers for the 7 days. They also gave me saline, saltwater, and a syringe so I could flush out my nose regularly, this helped with preventing infections and clearing the nose. I was so groggy and out of it for the day I just wanted to sleep, at one point I was vomiting, think it was the anesthetic wearing off and after that, I just kept trying to sleep, I still hadn't eaten much.
Day 2 Post Surgery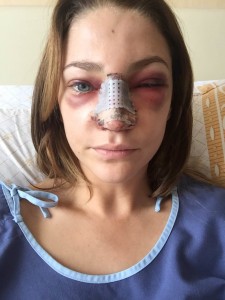 I can see yay! My eye had gone down but there was still a lot of swelling through my cheeks and jaw, no pain though. I had soft muesli for breakfast and fried rice for dinner, I still didn't feel like eating much. Dr Montien came to our hotel with Mutsee and checked on me, he made sure I was getting better and constantly flushing, he said everything was looking good, which made me feel better even though I had to big red/purple eyes. My ice pack was my best friend, I slept with it took it everywhere, my nose started to block up and I could only really breathe through my mouth, I went down to the pool for about an hour, and Jody was constantly bringing me cold water and swapping my icepack over, after that back to bed, still couldn't do much or see much of Bangkok and it was back to sleep it off.
Day 3 Post Surgery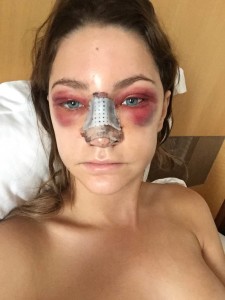 Feeling horrible and so emotional, no pain just swelling, hungry and over it, sick of being in the room, sick of sleeping. Just having one of those days. Jody made me get out of the room, which made me feel a lot better, headed down to the pool and just chilled out. My lovely client manager Emily from CosMediTour suggested getting a laser shower done, I had seen this before on TV on a client that Dr Nassif (famous Beverly hills surgeon) had done, as she was what he called á bruiser'. So I was open to the idea, Mutsee had told me this doesn't work for everyone but it was only 1000 baht ($40 AU) so thought I'd give it a shot. It wasn't painful at all! It didn't touch me, it was like a red light being shone over my face, they covered my eyes to protect them and it only went for 10-20mins, praying that my swelling and eyes go down from this!
Tips for sleeping upright if you sleep on your side like me or just move around a lot, sleep with an aeroplane pillow, A squidgy! It was the best thing I did and I didn't think of it until 3 days in, sleeping upright will minimize your swelling and help make the bruising go down. Also, wrap yourself in the doona so you can't move this helped me so much!
Day 4 Post Surgery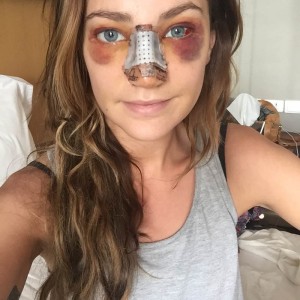 Woke up feeling so much better, I think the laser shower helped me so much! I loved it so booked in again for another 2 more times! My cheeks, lips & eyes have gone down, I completely open my eyes. We went to the hospital today for a checkup, everything is looking good and I am recovering well. Dr Montien took some stitches around the nostrils out today, it was like a sharp pinch but nothing overly painful. I can finally see the difference in shape on the tip! After seeing my surgeon, I met a girl in the hallway who also had DR. Montien as her Surgeon, she told me she got her boobs and nose done at the same time! Her bruising wasn't as bad as mine but she also said how she wasn't in pain and felt amazing! It was so good seeing someone else going through the same process as I was. I got my second session of laser shower today, I'm loving the results and so much bruising has gone down. Today I was feeling so much better we went to MBK, MBK is like a seven-story shopping mall, it has real and knock-off designer items. It was so nice to finally feel happy and really get out of the room.
Day 5 Post Surgery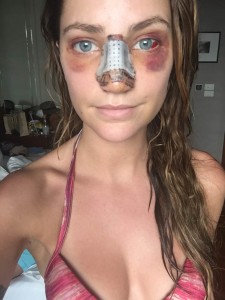 Feeling really good again. Flushing regularly is helping me breathe through my nose. We spent most of the day laying by the pool, (yes my face was covered) just another relaxing day. We also got a mani and pedi! My hairdresser's nails were looking horrible from all the previous colour work so it was so nice to get pampered and it's so ridiculously cheap. It was so nice to finally get out of the hotel and do something again! I also had my last session of laser done, every day I'm looking and feeling so much better and I'm starting to love myself more and more! There's still no pain, just annoying sleeping upright pattern.
Day 6 Post Surgery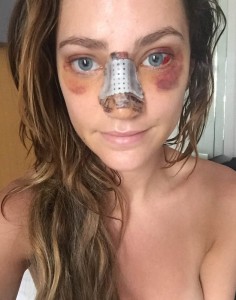 The days are just getting easier and easier and I feel as if I'm looking more like myself again. I'm getting the cast-off tomorrow feeling super excited and nervous! Today we are going to the weekend market, it's like 27 acres or something crazy like that! We didn't last long though, it got too hot and crazy for me, everyone stares at you as well, it's so uncomfortable but funny at the same time! I bought heaps of goodies for the house, chopping boards, bowls etc. (yes we declared the wood and got through customs with this)
I also have had a loss of taste and smell! I had no idea that this happened, at the start I gathered it was because there were so many tablets involved and I was so stuffy, that it must have been caused by that but apparently it's just because the nasal passageways are blocked up, and most taste actually comes from your smell! Crazy but just a heads up, this is normal haha!
Day 7 Post Surgery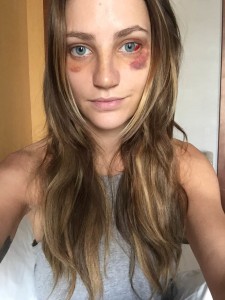 And the cast is coming off woohoo! It's really swollen, and numb, Dr. Montien said I won't feel the tip for at least a couple of months. Getting the cast off was the worst part of this procedure for me. Having a broken nose, being so swollen or not being able to see was nowhere near as bad as getting the plastic tubes the size of my pinky finger pulled out of each nostril! I didn't even know they were up there, he removed the rest of the stitches then said I'm just going to pull the tubes out now, I was like oh yeah no worries, nothings hurt so far it'll be fine, omgosh it was horrible! I felt like I had been punched right in the face, it was like a shooting pain right through my jaw to ear! Horrible, absolutely the worst part of the entire surgery for me! So just a heads up if you're thinking of undergoing rhino you will have tubes up your nostrils, whether you know it or not haha. It's going to take around 2 months for the bone structure to set properly, and I have to keep pushing the nose slightly in the direction I want for the last 10% of perfecting it. The swelling will go down around 6months+.
Home Time!
I'm home now and recovering well, the plane trip was fine and I had no trouble at all with the pressure. I will keep loading my progress through the next 6 months and I am more than happy to answer any questions you may have! Comment below, I feel as if I've covered the majority of it but if not shoot away! Overall my experience was a crazy roller coaster, but I am so happy with my decision to go overseas and get my surgery done, it's the best thing I've ever done! I already feel so much more confident and can't wait for the end of the 6 months. I am recovering really well and couldn't thank CosMediTour enough for being the best agency to do this! Thank you to my amazing fiancé as well for taking care of me and my friends, family and followers support! Again lots of love and thanks for reading my blog post about my surgery experience in Thailand!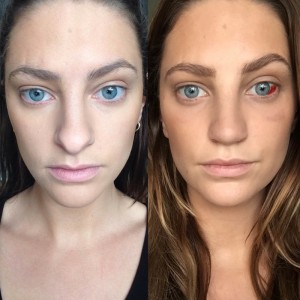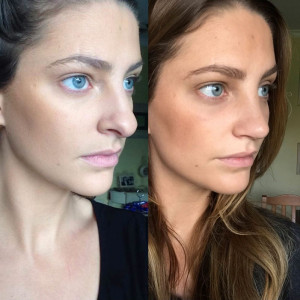 – Photos 2 weeks post surgery
Peace out Rhi xx"
All images and Blog Post courtesy of Rhiannon Langley from her website.
Watch Rhiannon's Video Blog Series
Have a question, or would you like to enquire about a procedure?