I feel so comfortable & confident in my skin now!
Ryann's full experience in Bangkok
Ryann is a mother of 3 from Victoria who had never been overseas before. After losing half her body weight she decided to travel to Bangkok for a Mummy Makeover!
"I decided to have the mummy makeover after having 2 wonderful children, I also have a lovely step daughter. I've lost half my body weight, so I have officially lost 60kgs which left me with a lot of excess skin that I'm not comfortable with.
I made the decision to travel to Thailand for my procedure as opposed to having it done in Australia as it was definitely a lot more affordable and after looking at Dr. Pornthep's work I was most happy with the outcomes of his surgery and I heard he was a wonderful man!
My experience with Dr. Porthep was, he was an absolute legend! He was honest, he was straight forward and there was no grey area. I wasn't left wondering whether he was making the right suggestions, he was confident in what he was saying and he made it clear to me why, he answered all my questions and left me excited! I was excited to wake up, not fearful!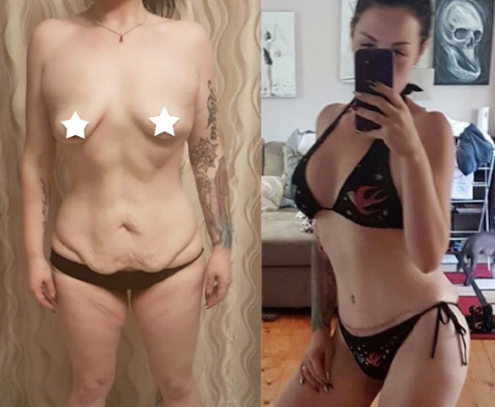 I could not recommend CosMediTour anymore highly. They have made not only my first overseas experience incredible, they made my journey easy, I was never left out of the loop and I felt safe! It's been the best!
Travelling over with CosMediTour to go through with the Mummy Makeover has completely and utterly changed my life! I look in the mirror and smile and even cry because it is such a change! I've come out feeling like a new me, but it's just more improved! I feel so comfortable and confident in my skin now!"
– Ryann
Procedure: Breast Lift + Augmentation and Extended Tummy Tuck
Surgery Package: Bangkok Mummy Makeover Package 
Surgeon: Dr. Pornthep
Surgery Details: 375cc, Teardrop Implants, Under the Muscle, Anchor incision
Have a question, or would you like to enquire about a procedure?