I am ecstatic with my results…It turned out better than what I imagined!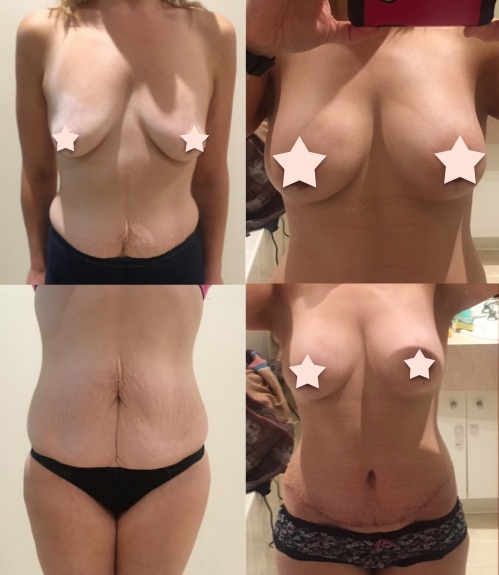 MUMMY MAKEOVER CLIENT EXPERIENCE STORY!
"My experience with CosMediTour has been fantastic! Staff are professional and courteous and get back to you in a timely fashion. I liked being able to speak with my client manager on a professional level but then also just as a 'girlfriend' sharing the excitement and anxiety etc. she has been fantastic, also a credit to CosMediTour.
I am very happy with this outcome and am pleased with the result as I did not want a fake looking implants and I think this was achieved. I was also extremely pleased that Dr. Montien ended up doing a donut lift and not anchor lift as suggested in the consult. He said that once the implant was inserted my breast tissue expanded and there was no need for any further cuts to allow for the implant.  
I am extremely pleased with the tummy tuck incise, as it is very low and comes up on the sides although one side goes further than the other and my left side has a slight muffin top as the incision did not extend further like the right side (I just think I need to exercise and loose a few kilos and it will be fine) Just me looking too much into it. The abdominal repair was painful and the skin was very tight, but 3 weeks on and I don't have much pain at all anymore. I am ecstatic with my results and in all honesty it has turned out better than what I imagined!!!!!
The World Medical Centre was amazing. I found staff professional and courteous, sometimes the language barrier was an issue but it all got sorted in the end. Having the nurses hug you and really care was amazing especially being alone throughout it all. I work in a hospital and The World Medical Center does not compare – it was so clean and spacious.
I had a great experience at the AETAS Hotel. I found it to be a lovely hotel and the staff spoke English quite well. My room was nice and clean no issues really. The best part by far is Mutsee, she is an absolute credit to CosMediTour! Being greeted with a hug by her when I arrived and showing me to my room and explaining how everything works to checking in and offering to take me to the shops. Also helping us girls make connections is great."
– Ms S
Procedure: Mummy Makeover – Breast Lift + Augmentation and Tummy Tuck
Hospital: The World Medical Center
Surgeon: Dr Montien
Surgery Details: 275/300cc Round, Moderate Plus Implants, Dual Plane Placement, Under the Breast Fold
ENQUIRE ABOUT OUR MUMMY MAKEOVER PACKAGE HERE! 
Have a question, or would you like to enquire about a procedure?