I was blown away with how well I was treated!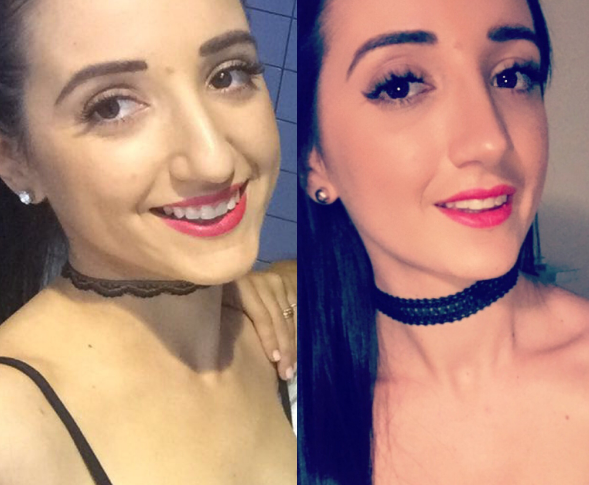 Pre surgery / 2 months post surgery 
"The ladies at CosMediTour were so helpful right from the get go. They made the whole process so easy. Literally, everything was organised for me which meant I wasn't stressed and could just relax leading up to my surgery.
Post op it was definitely tough, but after about day two I was able to go out and see some of Bangkok. I did expect to feel and look a lot worse than I did. I barely bruised and came home with no bruising at all and only a little bit of swelling.
I am now four weeks post op and over the moon with my results so far. Having rhinoplasty has changed my life. I already have more confidence. I have already told friends who are considering surgery that they should definitely look into going through CosMediTour and going to Thailand. Not only is it cheaper than here, the process is so easy and the staff are all so accommodating.
The hotel staff went above and beyond to ensure I was well looked after. I was picked up from the airport by Ant who went as far as to give me her mobile number in case I had any issues with the nurses not understanding me or even if I just needed to know anything about Bangkok in general.
The nurses in the ward were well presented and came pretty much immediately whenever I requested them. Sometimes it was a bit hard to communicate but if there were any issues they would get someone else. I have been to hospitals in Australia where you are just treated as a number. The staff in WMC genuinely cared about you and wanted to help wherever they could.
The nurses working on the plastic surgeon's floor were so friendly and made me feel less nervous about the whole experience leading up to my consult and tests. They explained everything in details to me regarding the forms, tests and follow up appointments.
Dr Montien was very professional. He went over everything in great detail with me. I went in with a list of questions I wanted to ask but he was that thorough he answered them all. He listened to what I was hoping to achieve but at the same time was realistic with me about what the results would be like. I left the consult knowing I was in excellent hands and had made the best decision deciding to travel to Bangkok and have Dr Montien complete my surgery.
The staff at the AETAS Hotel were polite and friendly. They were willing to help with whatever I needed. The hotel room was big and had everything I needed to help me recover. The food was delicious and reasonably priced for a resort/ hotel.
I cannot thank you all enough at CosMediTour, World Medical Centre and AETAS. I was blown away by how well I was treated and looked after."
– @stephanie_abate
Procedure: Nose Correction
Hospital: Dr. Montien
Surgeon: Dr. Montien