Meet our Newest Ambassador Sarah Harris!

Sarah Harris is a 23 year old model living in New Zealand. Over 2 years ago she discovered a lump in her breast which was swiftly removed. The result would leave her with lopsided breasts so in an effort to fix the problem she made a quick decision she undergo Breast Augmentation Surgery.
Unfortunately due to the time restriction, Sarah was unable to thoroughly research her Surgeon or the type of Implants that were going to be placed, so as a result her Breasts were uneven, too big for her frame and have caused her ongoing pain. To rectify the issues Sarah has contacted CosMediTour to undergo Breast Revision in Thailand.
Watch Sarah's Vlogs below to hear her story to date and follow her CosMediTour journey on Instagram Stories.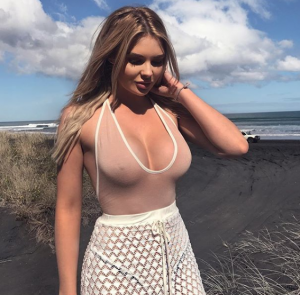 "I was doing a lot of modelling at the time and so my weight fluctuated a lot and my breasts did in particular. I found a weird lump in my breast one day and I went to the doctor right away to get it checked, they referred me to a specialist who told me the breast tissue had herniated they had to remove the lump straight away. If the surgeon needed to remove beast tissue, obviously I would need to put an implant in there as I didn't want one breast bigger than the other. I told the surgeon I wanted the same size breast implants as my natural breasts as I was about a C cup. I didn't have time to research the procedure properly as the lump needed to be removed right away.
My surgeon put the same size implants (275cc) in both breasts even after the breast tissue was removed from one breast making them two completely different sizes. Now one breast is a DD and the other is a D and I hate them. I am so self conscious of them, they're way too big and one sits lower than the other. Because the implants are too big for my chest they are pressing down on my chest plate and causing me pain when I breathe in and work out and I cannot wait to have them redone in Thailand!!
I wish my first surgeon had discuss the procedure a bit more with me. I felt rushed as they just needed to remove the lump. I would like to have large C breasts and fix the pain in the chest to feel more confident in my clothes. I want to be able to lye on my back and not be in pain, I want to be able to go to the gym and not be in pain!"
I'm sharing my experience because I don't want anyone making the same mistakes that I made by rushing into surgery without doing your research first. I know I'm going to be in really good hands and I cant wait to share my experience with you!"
Watch Sarah's Boob Vlogs
Have a question, or would you like to enquire about a procedure?