Neck Lift
As we age, the fullness in our cheeks reduces, and often results in the development of jowls. A combination of fat in the neck, combined with skin that has lost its elasticity can also give the neck a looser appearance. As this continues, the neck muscles begin to separate and hang, creating 'bands' or otherwise known as a 'turkey waddle'.
A Neck Lift raises and eliminates sagging skin and wrinkles and bands around the neck area and removes fatty deposits creating 'Jowls' at the jawline. This procedure can be performed in conjunction with a Face Lift for a complete surgical rejuvenation package – see Face Lift procedure.
CosMediTour – Neck Lift
Thailand
Surgeon:
Plastic & Reconstructive Surgeon
Consultation:
Free Surgeon Consultation
Surgery Time:
2+ hours
Anaesthesia:
General Anaesthesia
Note: Twilight Sedation is not used.
Hospitalisation:
1 night
Time Away:
9 nights
Hospital Transfers:
Transfers are included
Post-Operative Appointments:
Follow up 5 – 7 days
Recovery time:
Up to 2 months
Your Surgeon will make a small incision under the chin and possibly in front of and/or behind your ears. These incisions allow access to the Platysma (neck muscle) and any fat in the neck. The neck muscles can then be tightened and any excess fat removed. The incisions near the ears also allow for removal of excess skin.
Once the muscle has been tightened and any excess fat removed the skin is brought together under or behind the ear.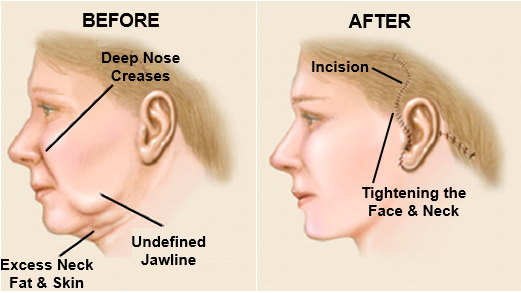 Potential Surgery Risks and Complications vary from patient to patient depending on a range of factors and the extent of surgical work required. Regardless of how remote, the potential risks are listed below are possible. Your own research is essential especially if you are considering surgery. Following pre and post surgical care and instructions will also reduce your risks. See the following potential risks and complications include and not limited to:
Medical:
Temporary pain, swelling, bruising, infection, scarring, fluid build up (seroma), bleeding, scarring, reaction to anaesthesia and medications
Suture complications
Poor wound healing or Necrosis (common with smokers)
Aesthetic:
Asymmetry (Symmetry never guaranteed)
Laxity relapses of the Platysma
Small dog ears at Incision sites (at hairline)
Neck Lift Price Includes:
Neck Lift Surgery
Surgery at one of Thailand's JCI Internationally Accredited Hospitals in Bangkok or Phuket
Operating Theatre, Anaesthesiologist and all associated surgery and Hospital charges
All drugs, routine and take home medications
Surgery by a renowned Plastic Surgeon, including pre and post-surgery consultations
Transfers: Airport / Hospital / Hotel / All Hospital follow ups / Airport – Hospital transfers are only included for procedures over 90,000 THB. (Yanhee Hospital do not offer transfers)
1 night (post-surgery) in a Private Hospital Room
CosMediTour's Bangkok Medical and Aesthetic Clinic (in AETAS Bangkok Hotel complex) with support from Doctors and Registered Nurses (if required – Bangkok only)
CosMediTour Destination Client Relations Manager
Private 'Invitation Only' CosMediTour Surgery Forum to connect up with many other CosMediTour Clients and Patients staying in Thailand before you travel and during your stay
* Note: All procedures in Thailand, are based on standard, non-complicated procedure patients.
FAQ's – Neck Lift
What can I expect during recovery from a Neck Lift procedure?
There will be some bruising and swelling after a Neck Lift. A recovery period of up to 5 – 10 days is required before resuming normal daily activity.
Will I have scars after Neck Lift surgery?
Yes, like any surgical procedure you will have scars after having a Neck Lift, although they will fade over a few weeks, becoming faint gradually over time. Your Surgeon will ensure your scar size is minimal and is well-concealed under the chin and at the ears, where it is usually hidden by the hairline.
How long will my bruising and swelling last?
Your Surgeon will do everything possible to minimise the amount that swelling and bruising occurs post-surgery. Generally, swelling begins to resolve at the end of the first week post-surgery. Bruising depends on the patient, and usually lasts approximately 10 days. Complete settling of bruising and swelling may take 2 – 3 weeks.
How long do I have to sleep with my head elevated?
You should sleep with your head elevated for at least 1 week to minimise swelling.
When will I be able to shower?
You will be able to shower 48 hours after surgery, however you must make sure that your incisions remain as dry as possible.
Have a question, or like to enquire about a procedure?