Facial Liposuction
Many men and women complain of having a face, jawline or neck that appears heavy or fatty. Men and women with good bone structure but that may have sagging skin, excessive lines or deep creases.
A Face Liposuction procedure removes unwanted fat from specific areas of the face and neck to create shape, contour and definition. During the procedure your Surgeon will gently suck out excess fat to provide a better defined jawline and slimmer contour to the neck so that it is more symmetrical and in harmony with the surrounding areas. If necessary, a small incision is created underneath the chin to allow excess fat from beneath the Platysma (neck muscle) to be removed, which can contribute significantly to fullness of the neck.
CosMediTour – Face Liposuction
Thailand
Surgeon:
Plastic & Reconstructive Surgeon
Consultation:
Free Surgeon Consultation
Surgery Time:
1 – 4 hours
Anaesthesia:
General Anaesthesia
Note: Twilight Sedation is not used.
Hospitalisation:
1 – 2 nights or outpatient
Time Away:
7 – 14 nights
Hospital Transfers:
Bangkok transfers are included
Post-Operative Appointments:
Follow up 5 – 7 days
Recovery time:
Some bruising for approx. 2 weeks
Bruising and swelling:
Typically up to 4 weeks. May commence strenuous activity after 2 – 5 weeks
Compression Garment:
2 – 3 weeks – 3 months (depending on site)
Your Surgeon will review your medical history and examine your skin, facial and neck structure. Then you will discuss your goals and expectations and your Surgeon will explain what can be achieved and if other procedures are to be done, e.g. full, mid or lower face lifts. (Women over 55 years may have to undergo pre-surgery laboratory tests).
Traditional – areas are carefully marked, a special solution of weak anaesthetic is introduced into the fat pockets, then a small hollow tube (Cannula) is used to remove the excess fat cells. The incision areas are then stitched.
Vaser Liposuction – liquefies the fat, which allows for greater precision and superior results and ultimately eliminates bleeding during surgery and reduces inflammation and bruising. Learn more about Liposuction.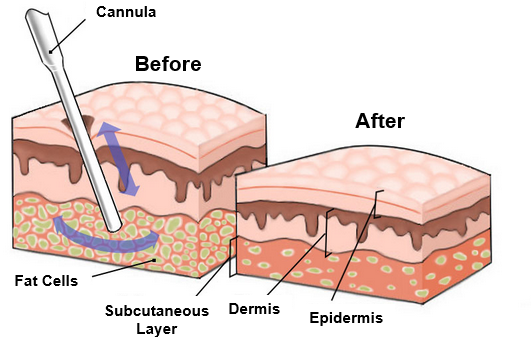 Potential Surgery Risks and Complications vary from patient to patient depending on a range of factors and the extent of surgical work required. Regardless of how remote, potential risks and complications are possible. Your own research is essential especially if you are considering surgery. Following pre and post surgical care and instructions will also reduce your risks.
Face Liposuction Price Includes:
Face Liposuction Surgery
Surgery at one of Thailand's JCI Internationally Accredited Hospitals in Bangkok or Phuket
Operating Theatre, Anaesthesiologist and all associated surgery and Hospital charges
All drugs, routine and take home medications
Surgery by a renowned Plastic Surgeon, including pre and post-surgery consultations
Hospital transfers are only included for procedures over 90,000 THB
1 – 2 nights or outpatient (post-surgery) in a Private Hospital Room
CosMediTour's Bangkok Medical and Aesthetic Clinic (in AETAS Bangkok Hotel complex) with support from Doctors and Registered Nurses (if required – Bangkok only)
CosMediTour Destination Client Relations Manager
Private 'Invitation Only' CosMediTour Surgery Forum to connect up with many other CosMediTour Clients and Patients staying in Thailand before you travel and during your stay
* Note: All procedures in Thailand, are based on standard, non-complicated procedure patients.
FAQ's – Face Liposuction
Is there much pain from Face Liposuction?
Unlike body Liposuction, facial Liposuction causes very little pain. Our Clients only require pain medication prescribed by the Surgeon during their recovery period.
Will the fat come back?
Fat usually does not come back in treated areas provided you do not gain a significant amount of weight after the surgery. Once the fat cells have been removed the fat will no longer be stored in your face. If you gain weight afterwards, relatively less fat will accumulate in treated areas compared to untreated areas.
Have a question, or like to enquire about a procedure?