Eyelid Lift
Eyelid Surgery (upper and/or lower eyelids) reduces the appearance of tired, droopy upper eyelids, eliminate bags under the eyes and restores a more rested youthful appearance to the eyes with a wider aperture, greater smoothness and symmetry. This can also be done as part of a 'Face Lift'.
A Blepharoplasty involves a surgical procedure to your upper and/or lower eyelids to remove excess skin or fat and tighten the appearance of your eye area.
CosMediTour – Eyelid Lift
Thailand
Surgeon:
Plastic & Reconstructive Surgeon
Consultation:
Free Surgeon Consultation
Surgery Time:
1 – 2 hours (depending if 2 or 4 eyelids)
Anaesthesia:
General Anaesthesia or Local Anaesthesia
Note: Twilight Sedation is not used. What is this?
Hospitalisation:
Outpatient
Time Away:
7+ nights
Hospital Transfers:
Not included for outpatient procedures
Post-Operative Appointments:
Follow up 5 – 7 days
Recovery time:
Up to 3 months
Bruising and swelling:
Typically 2 – 4 weeks
Reading:
2 – 3 days
Contact lenses:
May be uncomfortable for up to 2 weeks after surgery
Incisions are made in the crease of the upper eyelid and behind or beneath the lashes of the lower eyelid. Excess fat and skin are removed and if necessary, the muscles around the eye are re-draped. Fatty bulges in the lower lids can be improved.
Incisions in the lower eyelids will either run along just beneath the eyelashes and a little out to the side, or the procedure may be performed (where suitable) by an incision on the inside of the lower lids. If the fat is removed by the incision inside the eyelid, it is also possible to resurface the lines of the lower eyelid at the same time with laser.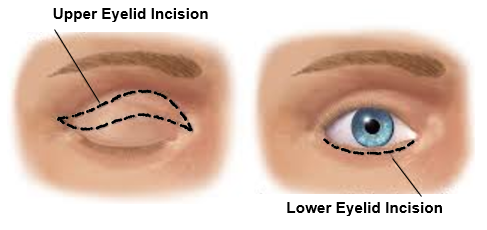 Potential Surgery Risks and Complications vary from patient to patient depending on a range of factors and the extent of surgical work required. Regardless of how remote, the potential risks are listed below are possible. Your own research is essential especially if you are considering surgery. Following pre and post surgical care and instructions will also reduce your risks. See the following potential risks and complications include and not limited to:
Medical:
Temporary pain, swelling, bruising, reaction to anaesthesia and other medications
Excessive tearing and light sensitivity
Difficulty in closing eyes completely (rarely permanent)
Dry-eye syndrome
Aesthetic:
Asymmetry (Symmetry never guaranteed), Eyeball prominence, Palpebral skin laxity
Pulling down of the lower lids (may require further surgery)
Eyelid Lift Price Includes:
Eyelid Lift Surgery
Surgery at one of Thailand's JCI Internationally Accredited Hospitals in Bangkok or Phuket
Operating Theatre, Anaesthesiologist and all associated surgery and Hospital charges
All drugs, routine and take home medications
Surgery by a renowned Plastic Surgeon, including pre and post-surgery consultations
Hospital transfers are only included for procedures over 90,000 THB. (Yanhee Hospital do not offer transfers)
CosMediTour's Bangkok Medical and Aesthetic Clinic (in AETAS Bangkok Hotel complex) with support from Doctors and Registered Nurses (if required – Bangkok only)
CosMediTour Destination Client Relations Manager
Private 'Invitation Only' CosMediTour Surgery Forum to connect up with many other CosMediTour Clients and Patients staying in Thailand before you travel and during your stay
* Note: All procedures in Thailand, are based on standard, non-complicated procedure patients.
FAQ's – Eyelid Lift
Are the incisions noticeable?
The upper eyelid incision is hidden in the eyelid fold above the eye. The outer edge of the incision under the eyebrow is sometimes noticed immediately and then over time fades to being almost invisible. Women can use makeup to help hide this if they feel it necessary.
When can I wear my glasses/contact lenses again?
Glasses are fine to be immediately worn and contact lenses, generally 1 week post-surgery.
What is the recovery like after?
Some swelling and bruising may occur after the eyelid lift. Any pain that patients experience is well-controlled with low-dose prescription or over the counter pain medication. Most patients are presentable in public within 7 – 10 days after surgery. In general, the upper eyelids tend to recover more quickly than the lower eyelids.
Have a question, or like to enquire about a procedure?